Aug. 29, 2011
Helloooooooooooooo, Cleveland!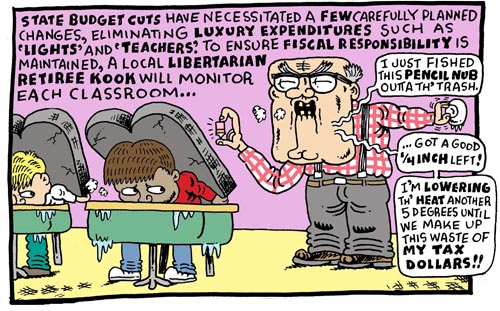 My exile here in the battered burg I call home is officially over. THE CITY will debut in the daily Cleveland Plain Dealer on Sept. 12!
You may (or may not) recall that in January of this year I was shitcanned (via email!) at the Cleveland weekly rag that had been my home base for the past decade. This brought an end to my 21-year continuous run as Cleveland's cartoonist-on-the-street, a tenure that spanned three papers (out-living two of them) and made me, undeserved or no, a well-known figure here in Cleveland. Said rag, owned by an out-of-town media company and run by carpetbaggers, was immediately, much to their shock I've no doubt, buried under an avalanche of complaints. Within a few days, they announced "we're bringing Derf back!"
What they didn't know is that the Plain Dealer had already approached me and I had accepted their offer. I let it be known in this space here that I had NO interest in going back to the weekly rag (I never communicated directly with these guys after the kiss-off email) and apparently they got the message. They clammed up about "bringing Derf back," weathered the storm of complaints and moved on. Without my readers. I'm sure they could care less.
The PD launch took longer than anticipated, mainly because I asked for the summer so I could finish MY FRIEND DAHMER.
This will be a local version of THE CITY, so it doesn't concern or interest most of you. I'll still do a national version. I'll post a link to the local version, just for fun. Obviously, the PD is making it worth my while to draw the extra strip. This is how the strip started, as strange scribbles about Cleveland. Yeah, it won't be political, which is also how it was at the beginning. The politics came post 9-11. I'm good at political humor, but I've always waffled about abandoning the original concept of the strip. This is a chance to go back to my roots. Another twist– I worked at the Plain Dealer from 1986-89, as a snotty, young, hotshot artist, before I found "fame" as an alt-dork scribbler. I quit to develop my own work... which turned out to be THE CITY! It's quite a surprise to find my work back in the PD.
It'll be a challenge, and I don't dispute that it's an odd fit. I give the PD editor props for trying something new, especially since daily newspapers aren't exactly known for that. It could well be that I piss off every septuagenarian Teabagger that subscribes to the Plain Dealer and am sacked in a couple months. I won't worry about it. If it works out, great. If it doesn't, oh well. MY FRIEND DAHMER hits the shelves in March and, if all goes as hoped, my career changes dramatically after that.
I've already gotten a few grumbles from fans about "going corporate." Listen, the only philosophical difference between your average daily and weekly paper these days is that weeklies drop the f-word into every issue to appear cool! Most weeklies like to pass themselves off as "the little guy" but are, in fact, owned by out-of-town corporations, and cut-throat ones to boot. Ones that pay a lot worse and treat their staffs like shit. The Cleveland weekly rag is owned by the Scranton (PA) Times! How "alternative" is THAT? I once naively believed weeklies were the saviors of newspapers. What a dope I was! The local rag here is barely 70 pages these days. The NY Press just folded. It's depressing to watch the business I love circle the drain.
So stay tuned. Should be fun!
Aug. 26, 2011
Ali Ferzat
They broke his hands.
Ali Ferzat, a Syrian cartoonist renowned abroad and popular at home and who has been a finger in the eye to the Assad dictatorship (both father and son) for years, was abducted by government thugs as he left his office, taken to a parking lot and beaten to a pulp. As they broke both his hands, Ferzat, reports his son, was warned to "stop drawing against your masters." He was then dumped, barely conscious, on a roadside.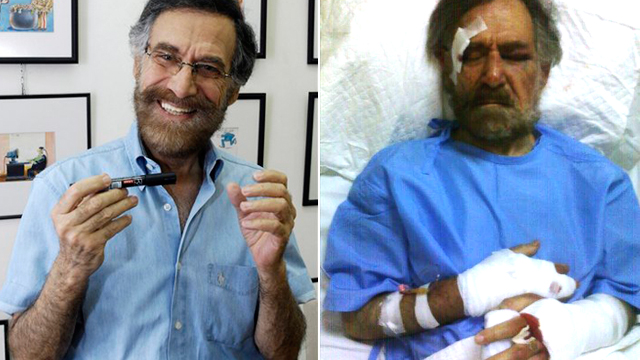 Ferzat is famous as a courageous voice of dissent in a country that doesn't tolerate dissent. It's a tricky, and dangerous, business drawing satire in a totalitarian state. Ferzat danced on the knife edge for years, mostly skewering government corruption and incompetence, without directly lampooning the rulers. The Assads grumbled about his cartoons, but his popularity was such that they didn't try to silence him. Perhaps they viewed him as an outlet for long-suffering Syrians. Let them have their nasty, little cartoons as long as they stay in their homes and we stay in our palaces, was probably the thinking. Then came the Arab Spring. Last March, Ferzat publicly sided with the dissenters and began drawing cartoons that savaged Assad and his cronies. He gave voice to those who had none. A brave man. Yesterday he paid the price.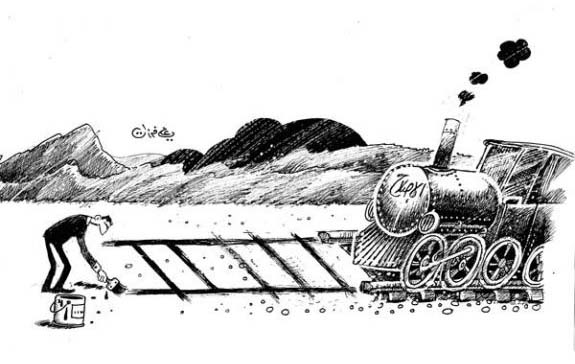 This (above) is one of the cartoons that reportedly led to the beating. Assad paints railroad tracks in the sand as his train has reached the end of the line. In this country, it would be just another lame political cartoon with a tired visual metaphor. But not in Syria. A few weeks ago, the regime killed the singer Ibrahim al-Qashoush, the composer of a popular anti-regime song, and dumped his body in a river with his vocal chords ripped out of his throat. Activist film producer Shadi Abu Fakher went missing on July 23 and has not been heard of since. It was no doubt fear of further enraging the population that kept the wildly popular Ferzat from meeting a similar fate. This time.
I've gotten a couple death threats over the years, but I never believed for a second that some Teabagger was going to roll up to me astride his fatty scooter and open fire. Nor did I ever worry about a black SUV pulling up in front of my house and the sound of jackboots thundering up the walk. These are very real fears for a cartoonist like Ferzat, ones he operates under on a daily basis, fears that are now reality. I am in awe of him.
Aug. 22, 2011
My Friend Dahmer Item of the Month
The review copies of MFD are being printed as I write! Never had review copies before. The big thrill for a comix creator is finding that box of books, fresh from the plant, on your doorstep, tearing it open and holding, at long last, an actual copy of the book. Can't wait to see it.
The release date is March 2011. That's a mere seven months away and the promo machine will start up soon.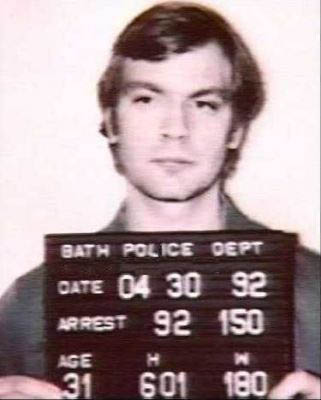 Here's the Item of the Month (above). Dahmer's mugshot from Milwaukee, on the night he was arrested, is a famous image. It was used on the cover of Newsweek and Time and still pops up from time to time. This mugshot above is almost never seen. Probably because it looks as if it was shot with a circa-1975 Kodak Instamatic.
His trial in Wisconsin began Jan 30, 1992 and lasted two weeks. A few months later, Dahmer was transported to Ohio to stand trial for the murder of his first victim, Steven Hicks, the 19-year-old hitchhiker he killed shortly after our high school graduation.
The Bath Police station is on the same street as Dahmer's boyhood home, site of the Hicks murder. They are about half a mile apart. The station is directly across the street from Bath Elementary, where Dahmer attended grade school. The Bath cops had no chance of ever solving that murder. Indeed, they didn't even know of it until Dahmer confessed all! Even though it happened, virtually, under their noses. I detail in the book just how ridiculously clueless the local cops were.
Dahmer's trip to Ohio to be charged and tried was the last time he would see his hometown. I wonder what he was thinking, being so close to the house he grew up in, the last place he was ever happy? And the place where it all went tragically wrong and the nightmare began?
His trial was at the County Courthouse in downtown Akron. I was working at the Akron Beacon Journal at the time, a sweet part time gig in the art department (at union scale!) while I got my cartoon biz up and running. The Beacon was a journalism powerhouse back then, a paper with a lofty rep that won a Pulitzer every five years or so (sadly, it's been sold to a shitty company and gutted like a fish since), so it was worth the hour commute down from my Cleveland home. A large group of newsroom folk walked down to the courthouse, three blocks away, to catch a glimpse of the now world-famous serial killer. A colleague asked if I wanted to go. I shook my head no and stayed behind to work on an illustration.
Aug. 19, 2011
The NY Press ceases publication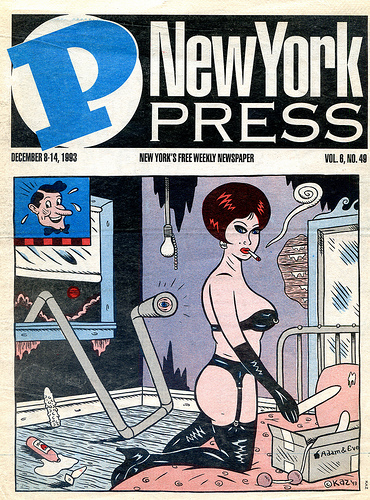 Above: The NY Press in 1993. Cover by Kaz.
The NY Press, the caustic one-time-rival to the Village Voice, has ceased publication after 23 years.
The NY Press was founded in 1988 by alt-press baron Russ Smith, a creative and complicated fellow who was infamously difficult to work for. Smith had previously co-founded the Baltimore City Paper and used the profits from selling that paper to The Scranton Times to go for the glory in the Big Apple.
The NY Press was, in its heyday from 1990-2000, one of the greatest comix papers ever published. It was an early home for Kaz, Ben Katchnor, Charles Burns, Mark Beyer, Tony Millionaire... and a new scribbler from Cleveland named Derf. When I first syndicated The City in 1991, after the previous year of working out the kinks in The Cleveland Edition, Smith was one of the first to buy the strip. I ran in The NY Press for most of the Nineties, also supplying numerous illustrations and full-pagers. It was a fun gig. The NY Press ran a dozen cartoons and gave each strip great play. A stark contrast to thesorry state of newspaper cartoons today . I thought the Press was one of the most unique, fun and interesting papers of the era.
Smith sold the paper in 2002 and, since then, it can charitably be described as "chaotic". Editors have been fired and resigned, in some cases after only months at the helm, staffs have been culled en masse, or walked out in number, and the paper has dwindled to a pathetic 40 pages. A NYC media company, which publishes a number of lame community papers around the city, bought the Press in 2007. The NY Press, once considered essential reading, is, at best, irrelevant and, at worst, a joke. And the cartoons? They're long gone, of course.
No one in New York is mourning its demise, as far as I can tell. Makes me sad. It won't be the last weekly that folds.
Aug 12, 2011
Punk Rock & Trailer Parks Item-of-the-Month
Here's a terrific BBC documentary about punk label Stiff Records, If It Ain't Stiff, cut into six parts on Youtube. Well worth watching.
It was Stiff Records that made me a punk. From 1976 to 1986, London-based Stiff was the most interesting label on the planet and brought the world first releases of Devo, Elvis Costello, Ian Dury & the Blockheads, Nick Lowe, Tracey Ullman, Graham Parker, Wreckless Eric, The Damned, The Plasmatics, Madness, Motorhead, the Pogues and dozens of less known acts.
I loved everything about Stiff: the music (of course), the attitude, the promotional genius, the look of their posters and records, even the name itself, which always got a suspicious glare from fans of corporate rock-n-roll. Most of the Stiff output was 7-inch singles, a welcome contrast to the expensive, triple-fold, die-cut LPS of the big labels. In the era of over-indulgent arena rock from Journey and REO Speedwagon and Queen, Stiff records was fresh and exciting. Its records didn't didn't look like any other and didn't sound like any other. Stiff was also an early pioneer of the music video (whether that's a plus or minus, I'll leave to you). Some of the great vids picked up by newly-born MTV were from Stiff, like (my fave) Madness One Step Beyond, which was filmed a full two years before MTV's launch in the summer of 1981. Yeah it's a goofy toe-tapper now, but in 1979, the song was strange and fun and unlike anything on the air. Stiff got a little pop-ier in its later years, but its output was never boring.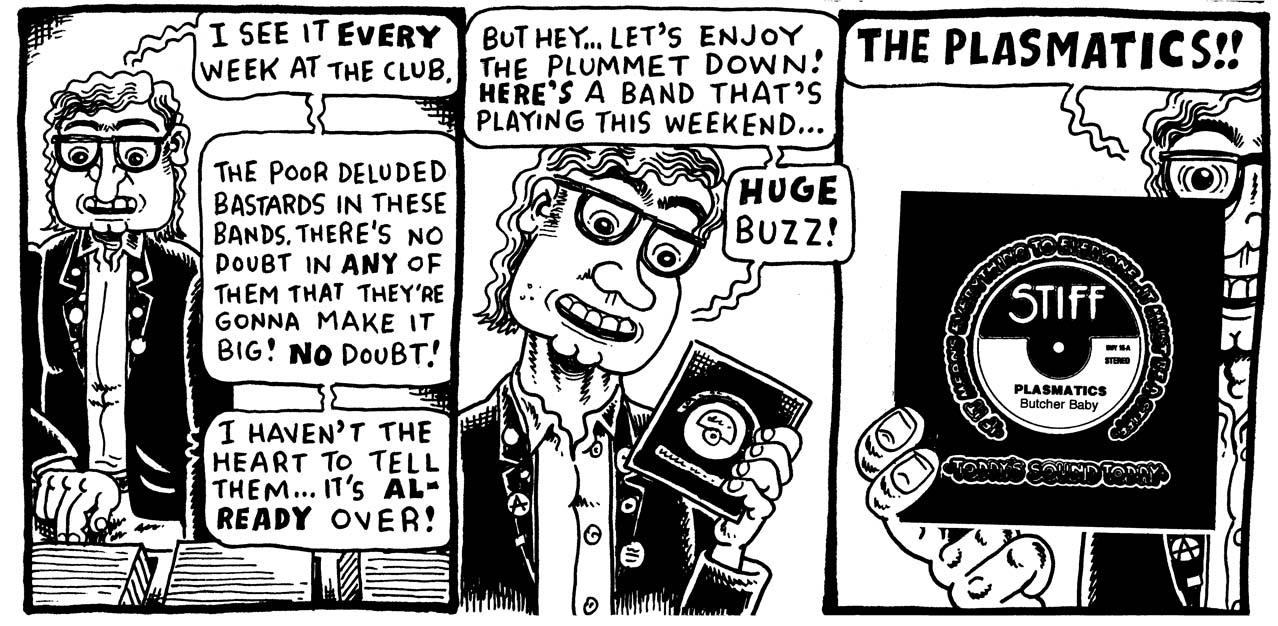 At most record stores, just as I depict in PR&TP (above), Stiff releases were isolated in their own section, away from the "real" rock-n-roll. And Stiff was big on Akron bands, giving international exposure to Devo, Rachel Sweet and Jane Aire & the Belvederes. So much was the interest with the Akron Sound, in 1979 Stiff released the Akron Comp, an LP featuring the top Rubber City bands. The LP even had a scratch-and-sniff cover that was supposed to smell like Akron's putrid rubber-tainted air (but really just reeked like an old sock). It's release was the high-water mark of the Akron scene, It didn't sell at all, of course.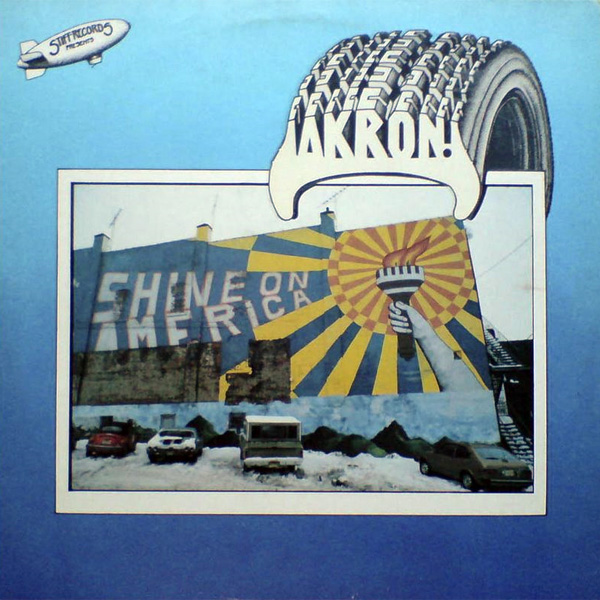 Above: the Akron Comp. The tire logo was scratch-and-sniff. I deeply regret not putting that dreadful mural, a visual monstrosity painted for America's BIcentennial in 1976, into PR&TP. It remained on the side of this building for a good 20 years, steadily fading into an eyesore, until it was mercifully painted over.
It wasn't all hugs and kisses, of course. Like all labels, Stiff had shady finances, bitter infighting and... er... stiffed its artists out of royalties. Just listen to Stiff co-founder Dave Robinson slagging Devo as "whingers" (whiners) because they had the audacity to demand payment and bolted for a big label when it didn't come! But this is all mere soap opera. What counts, as it always does, in the end, is the art itself.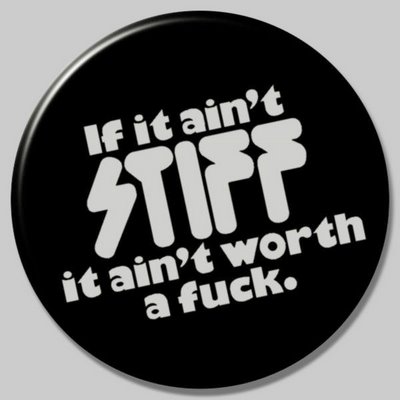 Aug. 10, 2011
"I know what I want and I know how to get it. "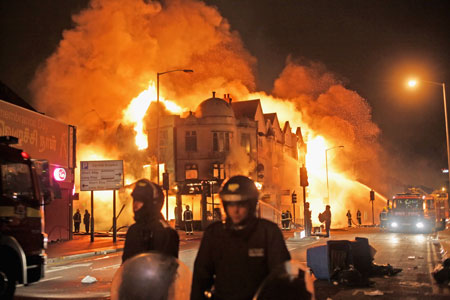 One of my neighbors finally had enough of American mayhem after a steady uptick in minor property crimes (bikes, stealing pipe from empty homes, that sort of thing) in our safe, but urban neighborhood. She is married to a Brit expat and triumphantly pronounced at a party six months ago that she was "fed up" and getting out. The family was moving to Britain and never coming back.
Ha!
Aug. 9, 2011
I keep rubbing elbows with lunatics.
Dahmer, of course. And serial killer Anthony Sowell, who raped and strangled 11 women in his house in the hardscrabble ghetto less than two miles from my own house (closer, in fact, than Dahmer's house was to my boyhood home). He admitted nothing, despite all the bodies found buried on his property (and a head found in a bucket in the basement!), forced a horrifically expensive trial, was found guilty on all counts last week and is soon to be frogwalked off to death row.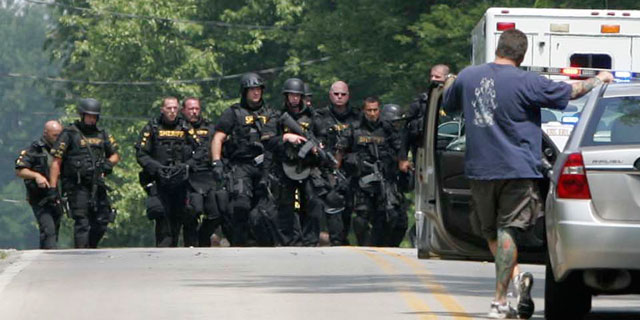 And now comes the horrible rampage in Copley, Ohio, (above) when a neighborhood eccentric snapped and gunned down eight people, including three children in a 10-minute murder spree, before being shot dead by cops.
Copley is a sleepy, small town that abuts the southern border of Bath, Dahmer's equally sleepy hometown. My Mom was born and spent her first years in Copley. The dentist I've been going to my entire life is right across Copley Road from the quiet sidestreet where the shooting occurred! I've driven by the crime scene more times than I can count.
More? The killer, Michael Hance, graduated from Norton High School in 1978, the same year as Dahmer and I graduated from Revere High! The two schools were sports rivals. What is it with the kids of 1978?
Aug. 4, 2011
Here's a thought-provoking article from Alternet about why young Americans aren't pissed off, taking to the streets and demanding change, and how our Corporate Masters brainwashed them into passive compliance.
Aug. 2, 2011
Authors Without Borders
Just a few points about Borders, as one emailer put it, heading off to "that big Christian Reading Room in the Sky."
I've gotten loads of feedback on this week's strip on the topic. It was also selected as the Comic Strip of the Day on the website of the same name. Go figure. I thought the strip was fairly mediocre when I finished it.
I don't feel one twinge of regret about the demise of the cut-throat corporate chain that trampled every indy bookshop within a 10-mile radius of whatever stripmall it called home. We didn't see this level of teeth-gnashing when the 1,000 or so mom-and-pop bookstores were driven out of business by Borders. On top of that, Borders was a HORRIBLE bookstore. Piles of lowbrow crap everywhere you looked. I'm sure it will impact the sales of Suze Orman, Dr. Phil and Rachel Ray, but if this gives the book industry the giant flush it deserves, maybe we can clear away some of the printed feces and make room for worthwhile books in the marketplace.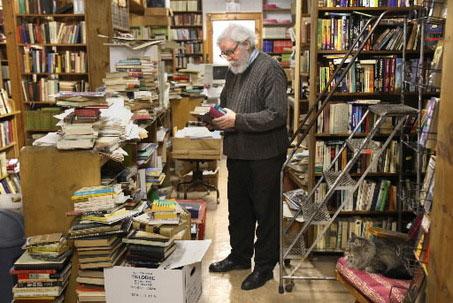 Above: one of favorite bookstores in Cleveland, the Bookstore of W. 25th, closed in 2008, unable to compete with corporate chains and online discounters.
Now some of you may wonder why some poor schlub who has a new book scheduled for release into the grim post-Borders book world isn't more concerned. Borders had a dreadful comics selection. Shelf after shelf of Dilbert and The Simpsons, lots of trade paperbacks of the latest Batman and Iron Man dreck, a bajillion identical Manga offerings. Good luck finding anything else. I begged the manager of a local Borders to carry some of my books, since I was a local author and all. No dice. All stock decisions came from corporate. And local authors didn't fit the formula. And I'm supposed to care that their faulty formula led to their doom? I really don't see it having much impact on my sales (although my publisher may disagree!).
An author I'm friends with on Facebook had a booksigning scheduled at a Borders in September. She's thinking of holding it in the parking lot in front of the shuttered store!
And Borders didn't just wipe out local bookstores. Indy music stores were also steamrolled. My favorite music shop, Wax Stacks in Cleveland Hts, just around the corner from where I was living at the time, closed as soon as the announcement was made that a giant Borders, with a vast music section, was opening at a loathsome upscale mall about five miles away. The owner, a grumpy guy who had long ago been driven mad by capitalism, didn't even try to put up a fight. In retrospect, smart dude. What I never understood was: how did Borders triumph? Their cds were all marked WAY the hell up: $18 for a new release when Wax Stacks priced them at $13 or $14! And their sales were awful. There were no bargains to be had. But hey, you could sip a $5 latte from the Borders cafe while flipping through the Beatles bin....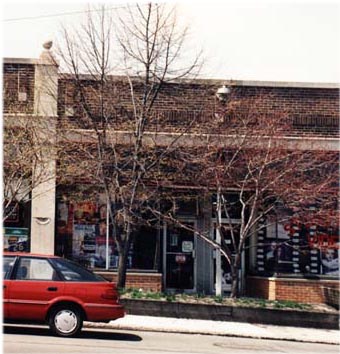 Above: Wax Stacks,my neighborhood music shop, opened in 1975 or so. Pictured here in 1995, near the end of it's existence, I popped in four or five times a week. A cozy storefront. Crazy, knowledgeable clerks (yeah, I'm talking about you, Pickering!), great jazz and blues selection, and the best underground muzak offerings in town. But no espresso cafe, no parking... so no chance.
Borders is no better than Home Depot or Best Buy. Just another big box juggernaut that wiped out regional distinctions and replaced it with monotonous, corporate sameness. Good f-ing riddance! So maybe the demise of Borders means the few surviving mom-and-pop book and music stores get to stay open. Maybe, just maybe, some small stores will move back into cities to fill the void.
No one is cheering jobs lost, but it's also a bit grating to see people deify Borders clerks like they are the last champions of literature. I heard one clerk on NPR earlier this week who was really laying that one on thick. No doubt there are plenty of Borders employees who are book lovers, but shouldn't that heroic status go to LIBRARIANS, who, after all, aren't SELLING corporate product?
As for that Borders grand liquidation sale? Turns out it actually RAISED prices on gullible rubes looking for bargains. True to its corporate personality to the end!
Aug. 1, 2011
Jack Kirby screwed again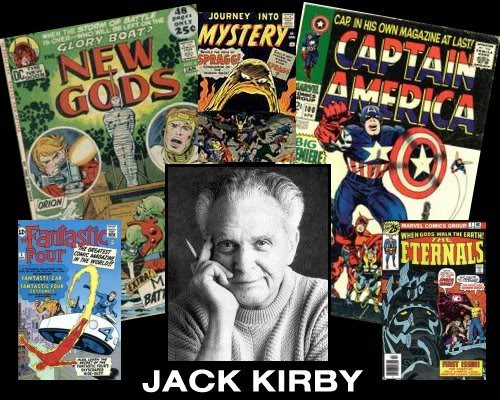 The big news out of Comicon was the legal victory by Disney-Marvel Inc. over the heirs of Jack Kirby, arguably the greatest creator in comix history and the guy who almost single-handedly created the entire Marvel cast of characters.
Much was made of how badly the creators of Superman, Jerry Siegel and Joe Shuster, were treated by DC. Both were fired when they dared ask for a percentage of the profits and then erased from the credits when they sued, unsuccessfully, to force the issue. Siegel was on welfare and destitute and Shuster was reduced to drawing softcore fetish art under an alias (as discovered and documented by comix mastermind Craig Yoe in a recent book) while DC made millions off their creation. Finally, when the Christopher Reeve Superman was released in the mid-70s, DC parent Time-Warner was embarrassed into providing both with an annual pension of $20,000, plus healthcare, and restored their credit to the comic books. Marvel, on the other hand, has steadfastly shat on it's premiere creator, the brilliant Jack Kirby.
Here's a summary of Kirby's long career at Marvel and the subsequent battle to gain a piece of what he created: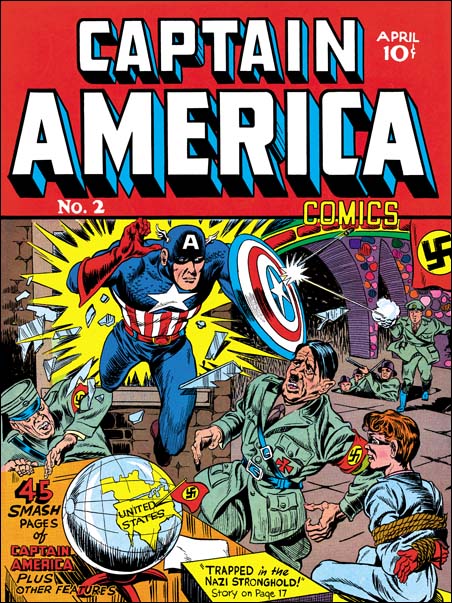 1940s: Kirby & writer Joe Simon create Captain America, the first huge hit for upstart Timely Comics (which would later change its name to Atlas, then Marvel). They bolt after nine issues to DC Comics and better pay. Under the plantation-system standards of the day, creators have no ownership stake in characters, no health care or retirement and are paid a mere pittance. Cut-throat owners like Timely's Martin Goodman treat them like dirt.
1950s: the industry crashes as kids' tastes change and Dr. Werthem rails against the evils of comics. Kirby scrapes together a modest living freelancing for every comix publisher still operating. By decade's end, he becomes Marvel's main penciller, working with writer Stan Lee on the sci-fi monster mags that are the company's bread and butter.
1960s: With the modest success of DC's Justice League, Goodman orders Lee to produce a similar team. Lee and Kirby create The Fantastic Four, which debuts in 1961. Bolstered by reader reaction and promising sales, the legendary Lee-Kirby team creates virtually the entire Marvel cast of characters over the next couple years: X-men, the Hulk, Iron Man, Thor, the Avengers and a re-introduced Captain America. The Marvel Age explodes and comix are transformed forever from mere lowbrow kid stuff into genre of significance. The heyday of Fantastic Four and Mighty Thor (1965-68) remains, in my opinion, the high-water mark of mainstream comics.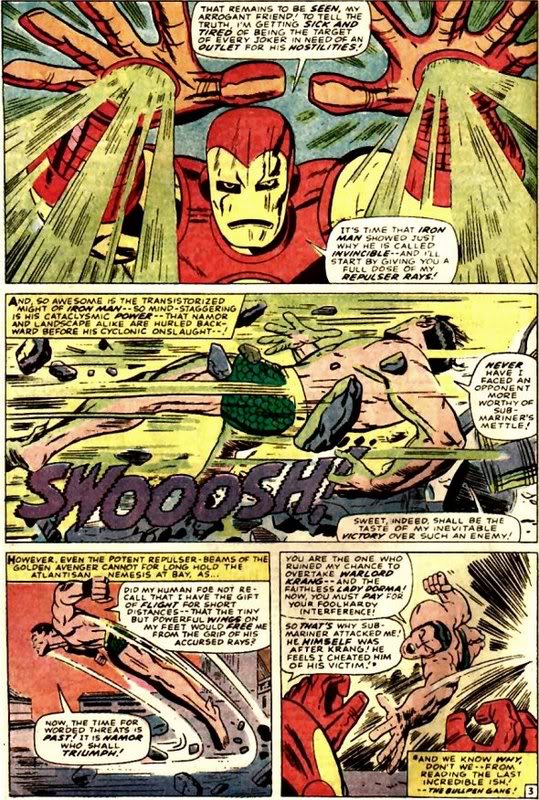 Above: My favorite Kirby book? Tales to Astonish #81, an epic battle ish featuring Iron Man vs. the Sub-mariner. Kirby wasn't even the regular artist. Gene Colan got ill and couldn't meet deadline and Kirby pounded out this classic in a matter of days! Amazing.
Stan Lee, a talented (some would say shameless) self-promoter, becomes a pop-culture guru and claims credit for the creation of all these characters. He was the brains, Kirby was the gifted pencil that brought the characters to life. There is ample evidence that this is total crap and the issue has been debated for years by fans and scholars. Kirby later insists is was HE who was the main creative force, inventing and designing the characters and plotting all the stories and Lee merely provided the dialogue. My take? Without Kirby (and the second creative giant at Marvel, Steve Ditko, of Spider-man and Dr. Strange fame), Lee failed to concoct a single character of significance. Not one. This despite working on over twice as many books as Kirby and Ditko combined. Case closed.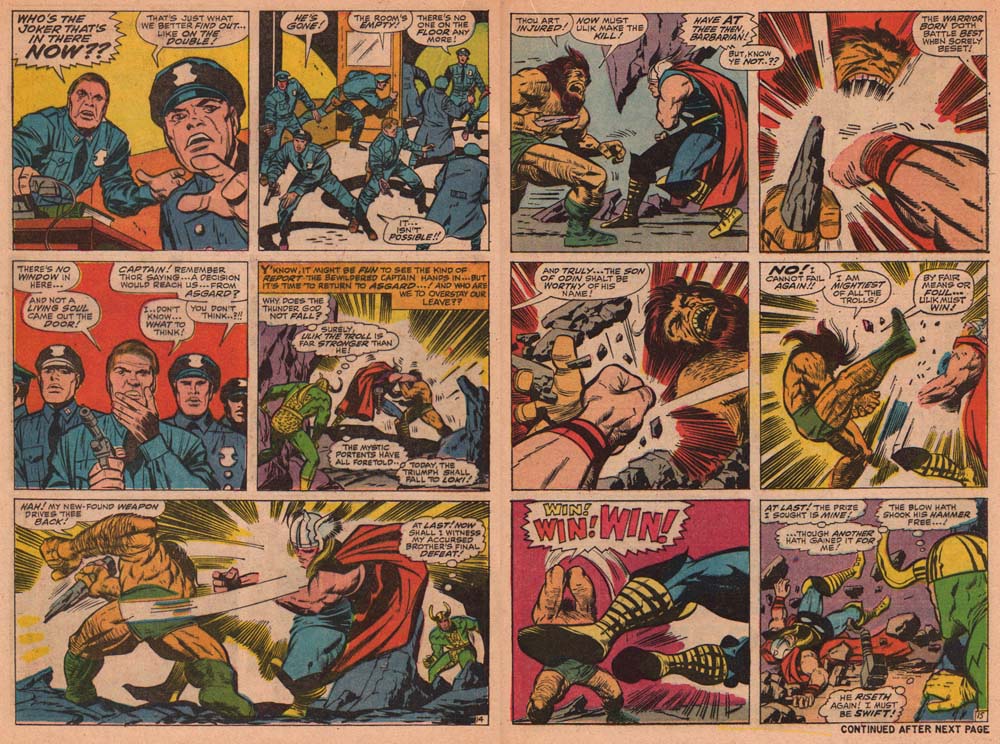 Above: I bought the original art from this two-page spread in Mighty Thor #152 back in the mid-80s for a mere pittance from a comix dealer who had a large pile of Kirby originals. I'm kicking myself for not buying more! It's my most treasured possession.
Lee, a relative of owner Goodman, is a fulltime employee with a salary and benefits, but Kirby is still just a freelancer, paid per page. There is no ownership stake or even a royalty from sales. Lee, knowing Kirby's value, pays him at a higher rate than any other artist, which the skinflint Goodman regularly bitches about. Kirby doesn't even get originals returned. Marvel keeps them in a storeroom and they are routinely plundered, stolen or given away.
In 1968, Goodman sells Marvel to Perfect Film and Chemical Corporation, a company that markets everything from magazines to vitamins. BIG mistake. Couldn't happen to a nicer guy.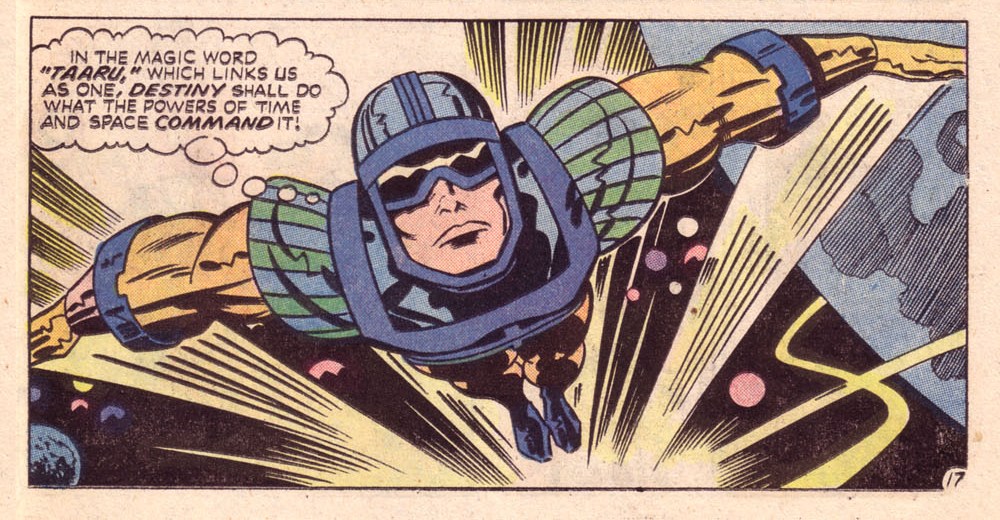 Above: from The Forever People, one of Kirby's wild and wacky New Gods titles.
1970s: Fed up with Lee hogging the credit and Goodman bitching about his pay, Kirby bolts to rival DC in 1970 where he creates the widely experimental New Gods series, a groundbreaking epic that spanned four titles. Marvel continues to publish as many Kirby reprints as it can put on the stands. Lee flounders without Kirby and by 1972 gives up writing altogether, opting instead to be Marvel's celebrity spokesman and promoter, a role he fills brilliantly.
Kirby returns to Marvel in 1976, but his abilities are diminishing rapidly as he approaches 70 and the lasting resentment over his earlier defection makes it an unhappy reunion. He leaves Marvel for good in 1978, just as comic companies issue strict work-for-hire contracts to comply with the newly enacted Copyright Act. Many top creators leave the biz rather than operate under these rules. Kirby refuse to work under work-for-hire conditions again. Probably not uncoincidentally, my interest in mainstream comix ends at this time.
1980s: As prices for original art began to rise, Kirby tries to get his originals (the ones that hadn't been looted) back from Marvel. This set off a three-year battle to get Marvel to release a treasure trove of artwork that it wasn't even contractually entitled to keep! Marvel insists Kirby renounce any and all claims to the characters he had (at least) co-created in exchange for the art. It is a public relations debacle for Marvel and its dictatorial editor Jim Shooter, who infamously squares off with Kirby at a comicon panel. Eventually, most of Kirby's original art is returned. Marvel inexcusably hangs on to sixty pages for leverage against future action. Today an individual Kirby page fetches upwards of $10,000!
DC, on the other hand, grants Kirby a percentage of his New Gods characters, including the popular villain Darkseid, even though it is under no legal obligation to do so. All his original artwork from his 1970-75 tenure at DC is in Kirby's possession.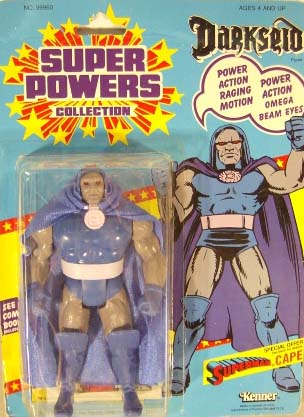 Above: Kirby's Darkseid, from the Kenner toy line from the 80s.
New World Entertainment buys Marvel in 1986 from Perfect Film and Chemical Corporation, since re-named Cadence Industries.
In 1989, MacAndrews and Forbes buys Marvel for $82.5 million.
1990s: The comix industry finally, reluctantly, begins to grant creators rights to the characters they invent.
Marvel does not, and still operates under a stringent work-for-hire arrangement. The last character of significance to emerge from the company? I'd say Wolverine, who debuted in... 1974! That's right. Nothing of note in 37 YEARS!!!! Gee, think that has anything to do with Marvel's steadfast exploitation? If a creator comes up with a decent character, they take it to Dark Horse or Image or any of the other companies where creators retain rights. Marvel just endlessly regurgitates those old Lee-Kirby stories and recycles their characters in the dreadful summer movies that have been clogging up multiplexes for the past few years. Marvel makes billions doing so. The Kirby Estate gets nothing. Not a cent.
Kirby dies in 1994.
In 1996, Marvel, following years of corporate blunders and mismanagement files for bankruptcy.
The first Spider-man movie is released in 2002. It and its sequels are blockbuster hits and immediately turn around Marvel's fortunes.
In 2010, Disney buys Marvel for $4 billion, creating the largest entertainment mega-entity in history. Kirby's children file suit to regain ownership of their father's creations.
Here's what those creations pulled in, in box office alone, not including merchandise, or dvd sales, etc. JUST box office:
X-men- $296 million. X-men 2- $407 million. X-men: Last Stand- $459 million. Iron Man- $580 million. Iron Man 2- $600 million. The Incredible Hulk- $280 million. Thor- $447 million. Capt. America- $170 million in its first week.
Staggering figures. And Jack Kirby, from whose genius these characters sprung, gets not one... red... cent.
In the long, sorry history of exploitation and abuse in the comix biz, the Kirby story stands above all the rest. Never has a creator given a company so much and been treated with such appalling disregard and corporate contempt. A boycott of Marvel-Disney is in the planning stages. It is long overdue.