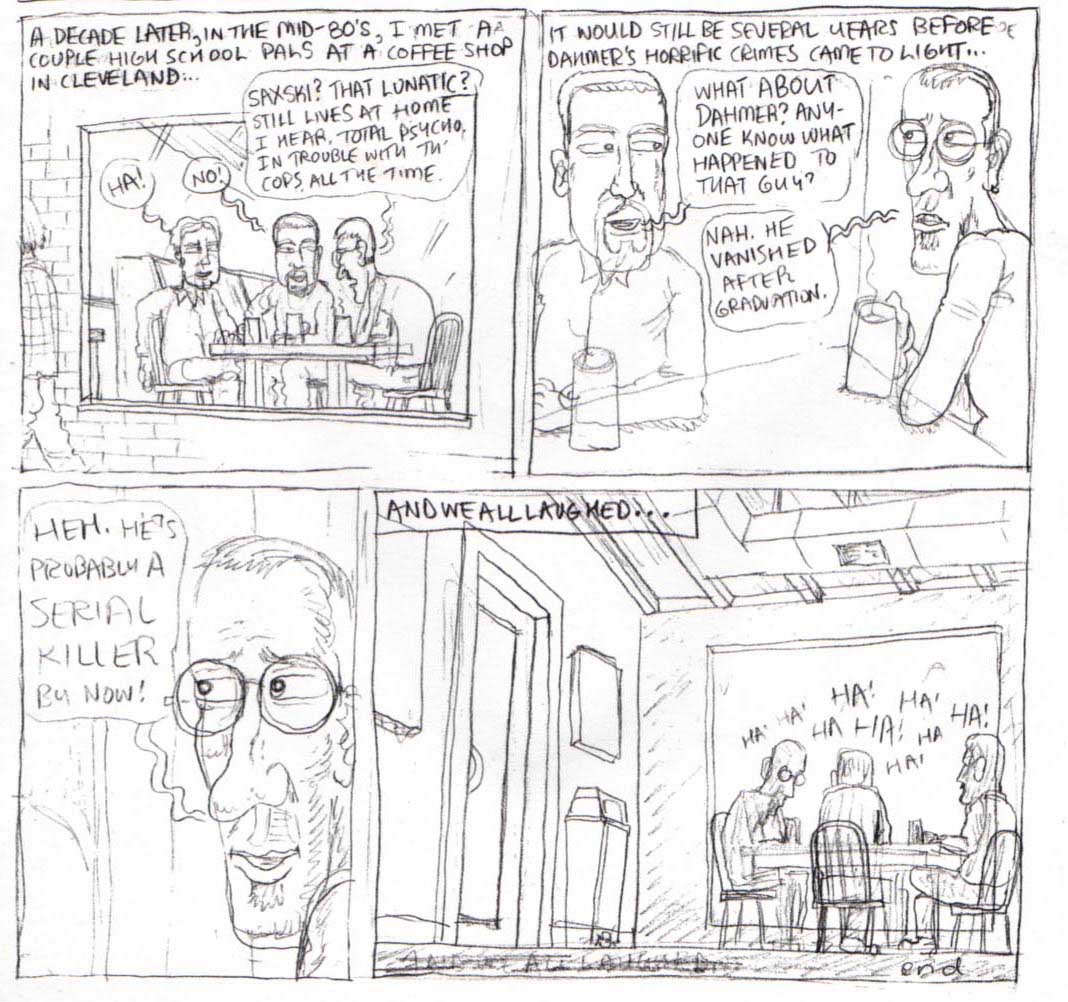 Above: Pencil from the first My Friend Dahmer graphic novel, a 100-page book
that never saw the light of day, 1998.
Sept. 30, 2011
Last chance for the original My Friend Dahmer
If you've been waffling about grabbing a copy of the original self-published My Friend Dahmer comic book from 2002, I'm about to yank it off the market for good.
The new graphic novel, the final incarnation of the project I first conceived some 20 years ago, is due out in March 2012. Review copies are soon to be printed and the pre-sale promo machine will then fire up.
The original comic book collects three short stories, a mere 24 pages total, I drew in the Nineties, shortly after Dahmer's death in 1994. The first short story was previously published in Fantagraphics' ZeroZero #18 in 1997 and got much acclaim. I then wrote a 100-page graphic novel, based on all the information I had at the time. I spent the next five years trying in vain to interest a publisher. When it became obvious that wasn't going to happen, I decided to winnow it down to 24 pages and self-publish it, just to get something out there. It was always my intention to someday find a publisher who would put out the full graphic novel.
That search took another nine years! In between, of course, I put out Punk Rock & Trailer Parks and The City:Collected. And when I returned to My Friend Dahmer, the book had doubled in length from my original draft, to 200 pages.
But for you completists, I'd suggest you buy a copy of the original MFD soon, as in the next week. I'm yanking down the purchase link on Sat., Oct. 7. The original will then be officially out of circulation. This is the book that made my rep, such as it is. Got me my first Eisner nomination and is today regarded as a cult classic. I, of course, can only see its flaws, especially in comparison to the upcoming graphic novel which is very likely the best work I've produced to date.
Hit the purchase line to the left. It's only $2.95 (plus shipping).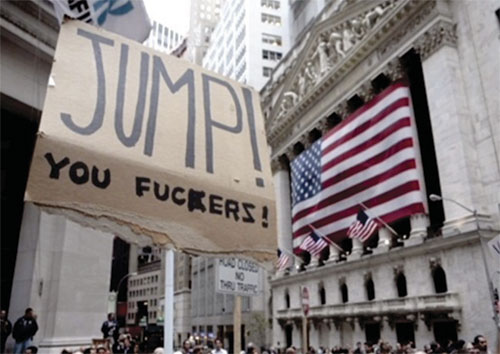 "If you're not careful, the newspapers will have you hating the people who are being oppressed, and loving the people who are doing the oppressing."
–Malcolm X
Sept. 29, 2011
More bad news for weekly papers
The news keeps getting grimmer. Village Voice Media, the largest chain of alt-weekly papers announced big editorial staff cuts at several of its papers, with rumors that across-the-board cuts are on the way. The Minneapolis City Pages lost a third of its staff!
In San Fran, despite getting a huge undisclosed settlement from rival SFWeekly (owned by the above VVM), the SF Bay Guardian laid off an undisclosed number of editorial staffers.
Here in Cleveland, the paper I used to work for, Cleveland Scene, has all but disappeared from the streets. If you can find a copy around town, and I suspect they've cut their print run in half, the paper is barely 70 pages. It contains very little worth reading.
It's becoming clear that the weekly press is going the way of terrestrial radio. It's simply something that has outlived its time and is no longer relevant or wanted. Too bad.
Sept. 19, 2010
A new Cleveland strip
Out-of-towners won't be interested in most of these, although some of them will translate, so I'll post them here anyways. Here's todays strip for the Cleveland Plain Dealer, my new local gig: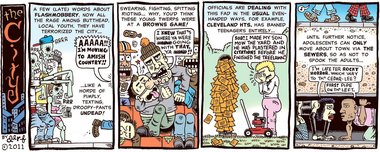 Sept. 18, 2010
Carl Ogelsby RIP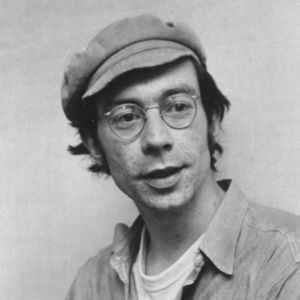 Carl Ogelsby died last Tuesday at age 76.
Most of you probably have no clue who Ogelsby is, which is a sad testament to the comatose state of the American Left. Ogelsby was one of the great figures of the Students for a Democratic Society (SDS) in the Sixties. A gifted orator and thinker, he rapidly rose up the ranks of the organization, becoming its president a mere year after joining. His fiery speech at the 1965 March on Washington is legendary.
Ogelsby grew up in rural Bath, Ohio, hometown of Jeffrey Dahmer. About a mile from where I lived, too. He graduated in 1953 from my alma mater, Revere High School. In Ogelsby's time, the two small towns that comprised the school district were sleepy, sparsely populated, farm towns and most of the residents were descendants of the early pioneer families. Ogelsby's parents emigrated from the poverty-stricken South during the Depression and found work in nearby Akron's clanking rubber factories. His father worked the line at Firestone, along with many of my relatives. His parents later became caretakers on the Firestone Estate in Bath, the 1,500-acre home of tire emperor Harvey Firestone, and moved to the bucolic countryside. The Estate consumed the entire center the township (still does, although half of it has since, sadly, been developed). We local kids knew never to venture onto the Estate. It was closed off like North Korea, and local authorities, acting as Harvey's henchmen, lowered the boom on trespassers! It's only conjecture, but seeing such decadent wealth up close obviously left a lasting impression on the young Ogelsby.
He was no FoxNews stereotype. His politics were complex. He advocated social change and was, of course, passionately opposed to the Vietnam War, but he was more Libertarian, not the wacko Randian Libertarianism currently in vogue, but rather the slightly-less-wacko kind espoused by Murray Rothbard.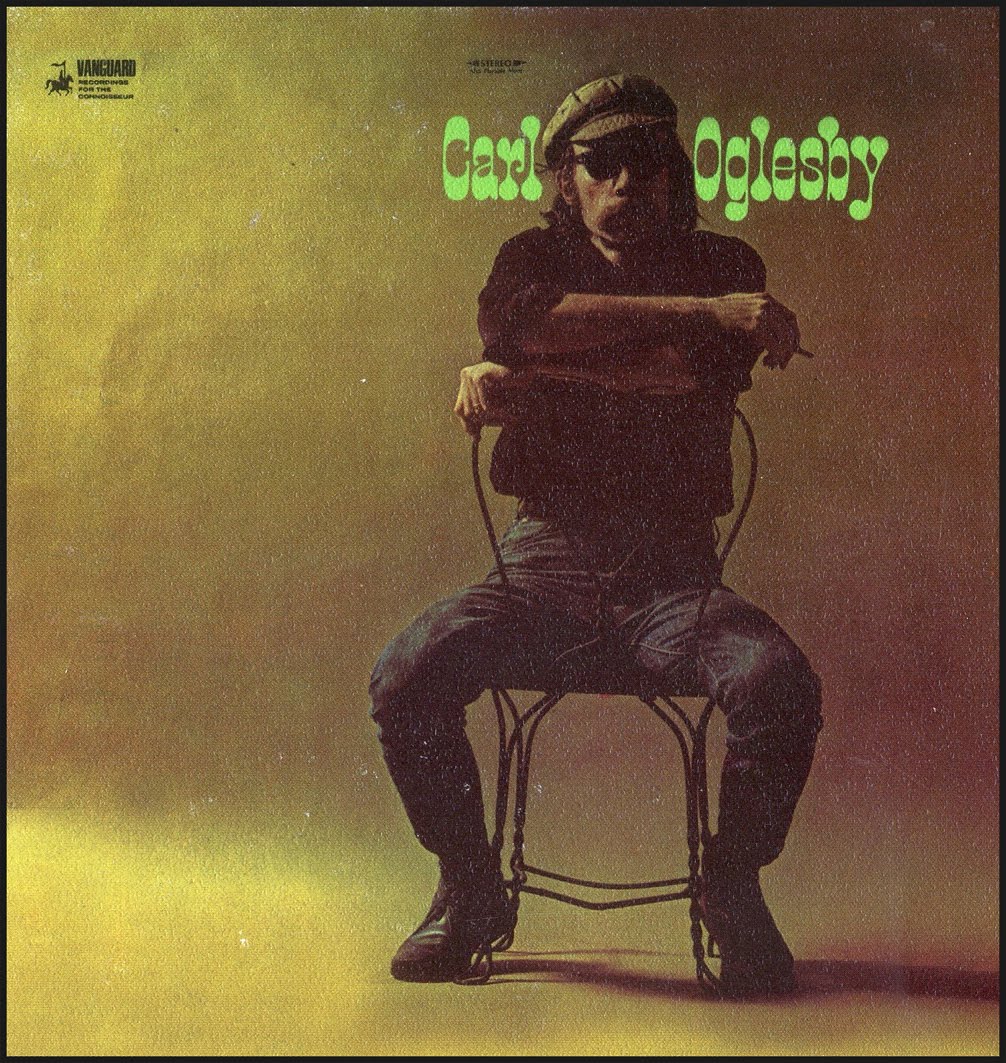 Ogelsby was a creative and intellectual force. He recorded albums (above), wrote books, penned three plays and delivered memorable speeches in every corner of the country. Black Panther Eldridge Cleaver asked him to be the vice-president on the Peace and Freedom Party ticket in 1968 (Ogelsby declined).
The Sixties Revolution, of course, failed. The Left fractured, perhaps not to rise again in my lifetime. Most of the college protestors who filled the streets in Chicago in 1968 were backing Reagan ten years later. What passes for "radical" these days would have been right-leaning moderate in Ogelsby's time.
Ogelsby was forced out of the SDS presidency by Bernardene Dohrn, Bill Ayers and the other Marxist true believers of the radical "Weathermen" at the national convention in 1969. Ogelsby was a firm advocate of non-violent protest. The Weathermen wanted to engineer the overthrow of the US Government by any means necessary and would soon unleash a bombing campaign against The Man. They painted Ogelsby as a unwitting stooge, seized control of SDS and purged the organization of anyone who differed from their radical red beliefs. Within a year, SDS was spent as a political force. The Weathermen went underground. They confounded and taunted the FBI for over a decade, but their relevance quickly evaporated as the Seventies progressed.
After the collapse of SDS, Ogelsby became a writer, a musician and an academic. He wrote several books on the JFK assassination, and the various competing theories that attempt to explain it. He recorded two albums, roughly in the folk-rock genre. He taught Politics at the Massachusetts Institute of Technology and Dartmouth College. But in reality, he was exiled to the intellectual fringe, just another loony, leftwing college prof spouting tired Sixties propaganda, as the nation lurched ever farther to the Right. The media ignored, then forgot him. He was silenced by the mainstream indifference that has numbed American culture over the past 30 years and has turned us into a nation of debt-ridden zombies, contentedly drooling at ESPN in front of our 20-foot, flatscreen tvs.
There's no mention of Ogelsby at all at Revere High. You'd think an institution whose most famous graduate is a serial killer would want to honor such an accomplished man, but, if it did, I can just hear the howls of the Teabaggers that now infest the affluent, suburban school district. That's where we are now, after 50 years of the Left being demonized and smeared by our corporate masters and (now) the gullible rubes manning the Tea Party ramparts.
Sept. 15, 2011
Punk Rock & Trailer Parks Item of the Month
Here's a DIY video sent to me by Rubber City artist-musician-archivist-scenester Jimi Imij Ohms. "Hey, Tommy Strange" by Zero Defex. I really dig this song, a surprisingly soft-hearted lo-fi ballad from what is normally a balls-to-the-wall punk hardcore group.
Jimi is one of those characters that every underground scene needs, and his archive of film, recordings and ephemera from the Rubber City punk scene is simply staggering. Richard Hell archived the New York scene. Mick Jones archived the London scene. And the now-largely-forgotten Akron scene, a worthy compliment to the larger spawning grounds in NYC and London, was preserved by Jimi. Thank God for that, otherwise it all would have been lost. A couple of his self-published books of photos and flyers were extremely helpful references as I was putting PR&TP together, along with several homemade cd's containing rare cuts, live recordings from The Bank punk club and other sound and radio snippets. I played these repeatedly as inspiration while cranking out PR&TP pages.
Tommy Strange btw was a popular Akron punk rocker during the era of PR&TP. He fronted a number of bands, most notably Zero Defex and The Ragged Bags, two groups that made a wonderful noise in the early 80s but, like most of the bands I write about in PR&TP, never made it far beyond Akron. Tommy split for San Francisco years ago and still plays there.
His moment in the sun is long gone, sure, but Tommy and all the others like him are still out there, making art for the simply joy of creating and performing. That's something to admire and, of course, is the central message of Punk Rock & Trailer Parks.
Sept. 12, 2011
Ali Ferzat update
Fans and supporters worldwide have rallied behind legendary Syrian cartoonist Ali Ferzat, who was badly beaten by agents of the Assad regime as punishment for his cartoons. See post below. It's a given that it was only Ferzat's fame, not just in Syrian but throughout the Middle East, that prevented an assassination.
Here's a report from AlJazeera on Ferzat, which includes a sample (translated and explained) of the type of cartoons that led to his beating. The first cartoon they show....wow.
Below is one of the dozens of tribute cartoons that colleagues worldwide have created in support of Ferzat. This one is an anonymous offering from a fellow Arab cartoonist, drawing Ali in his hospital bed giving a defiant salute. Remember, most of these cartoonist operate under the same fear of reprisal and, in most cases, far stricter censorship than Ferzat. In fact, although many media in other Arab countries reported the beating and the tribute cartoons, most did NOT post those cartoons! Out of fear, we must assume.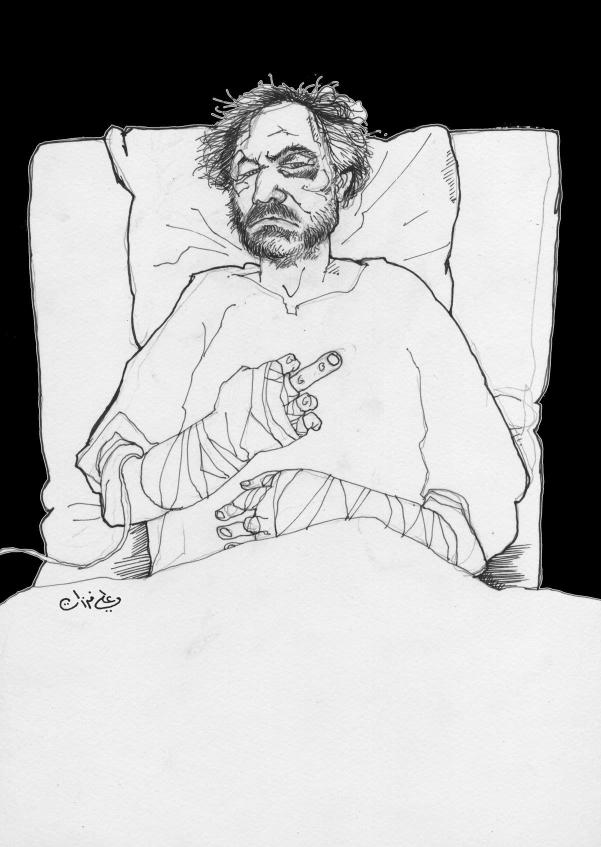 Ferzat, according to a son who is his spokesman, remains determined and unbowed. But he was so badly crippled by Assad's thugs that he is unable to return to work until he mends. Let's hope he has that chance.
A brave, brave man.
Sept. 12, 2011
Back in Cleveland! Well, it's a big deal to me anyways....

Above: My first strip in the Cleveland Plain Dealer. Ghoulardi is a legendary monster movie host from the early Sixties who is still revered like a god in this town.
Got a big write-up in today's Cleveland Plain Dealer as my strip, or rather a Cleveland version of it, debuts in a section of the paper inexplicably named PDQ.
This marks the first time a cartoon of mine has appeared in a mainstream newspaper since 1989, when I quit my job (staff cartoonist, illustrator, back-up political cartoonist) at this very same publication to forge off on my own and develop strange scribblings that became THE CITY. Twenty-three years later and I'm back! Kudos to the PD for trying something new.
They ran a mugshot of me from their files (originally from the Writers and Poets League, if memory serves, taken last year when I was given a lifetime achievement award.... shortly before the organization went bankrupt and folded!). It's a handsome shot that beautifully accentuates one of my many ghastly scars, specifically the one on my neck from cancer surgery. Next time, I take my shirt off and really repulse the public!
A PD editor cut out the two best lines in my interview, where I state the PD readership is comprised mostly of "septuagenarian Teabaggers" and speculate that the Cleveland Chamber of Commerce (which, hilariously, calls itself Positively Cleveland) will use it's influence to "have me silenced." Hmmm.
Got a kick out of the comments posted on the troll-friendly PD website, where 95 percent of posters would never dream of subscribing to the paper, but nonetheless bitch bitterly about everything in the paper they don't subscribe to. The first comment posted: "OH GREAT!!!!!! More radical, left-leaning, nut jobs." The second: "This is a new low." A later one says I look "like an angry Andy Dick." I don't allow comments here, because, well, I don't really give a shit what any of you think, so if you want to take some long-pent-up potshots, head to Cleveland.com.
Addendum 9-13: Aw, bummer. The website monitor deleted about 75 percent of the comments. Some real doozies, too.
One of the PD columnists recently predicted, good naturedly, of course, that I'll last "three months, tops." I'm thinking of starting a "When Will Derf Get Sacked?" pool!
Paypal accepted.
Sept. 2 , 2011
My Friend Dahmer Item of the Month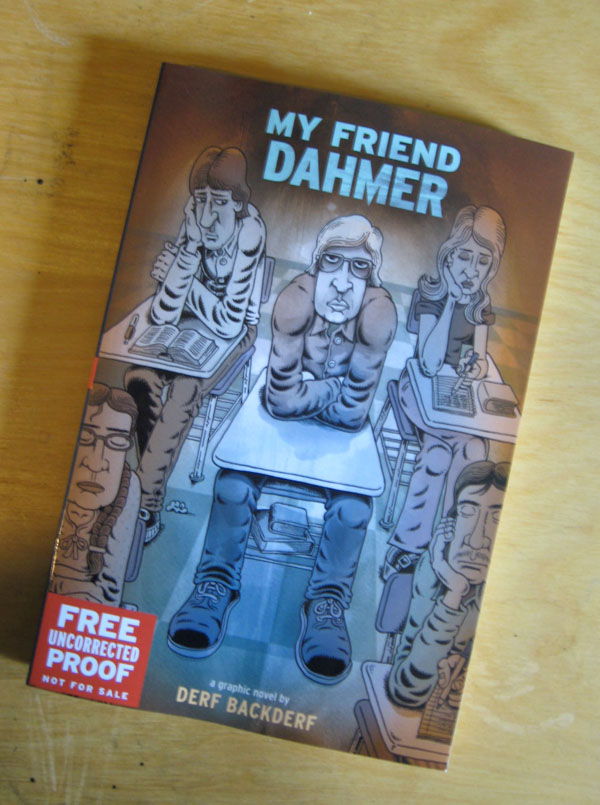 Here it is! The proof copy of MY FRIEND DAHMER!! Looked it over closely several times last night. It looks amazing, and this is only the proof! The actual book will have better paper and come in softback AND hardback! Can't wait to see those.
This is the first of TWO proof editions. This one is just to check that all is well and as it should be. They'll be another round of proofing and corrections and then a Review Edition will be printed, for (duh) reviews and promo. That'll happen sometime in Sept.
I've never had one proof edition, let alone two! Don't get me wrong, indy publishers are great and SLG, which published all my previous books, is particularly fab and I wouldn't diss them for the world, but the deep pockets of a major house sure are nice.
This is the big payoff for a creator, to find that package on the doorstep, tear it open and hold in your hands, at long last, the book that you spent years producing. In the case of MY FRIEND DAHMER, it was TWENTY years.
The book will hit the stands in March.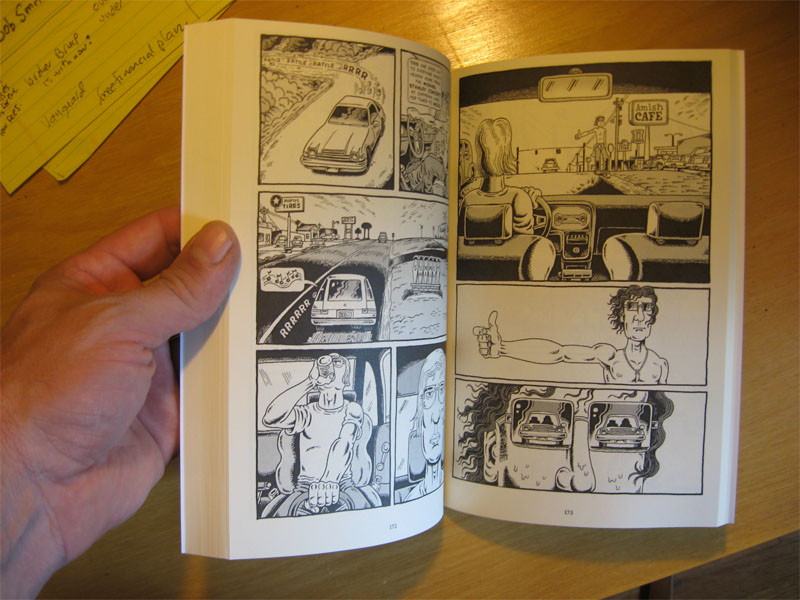 Aug. 29, 2011
Helloooooooooooooo, Cleveland!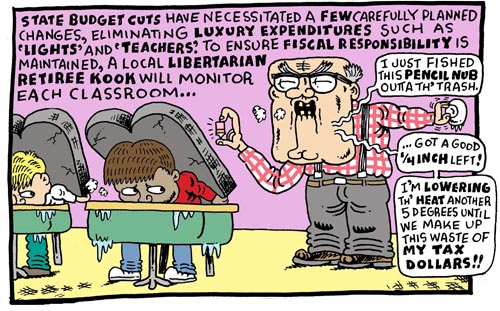 My exile here in the battered burg I call home is officially over. THE CITY will debut in the daily Cleveland Plain Dealer on Sept. 12!
You may (or may not) recall that in January of this year I was shitcanned (via email!) at the Cleveland weekly rag that had been my home base for the past decade. This brought an end to my 21-year continuous run as Cleveland's cartoonist-on-the-street, a tenure that spanned three papers (out-living two of them) and made me, undeserved or no, a well-known figure here in Cleveland. Said rag, owned by an out-of-town media company and run by carpetbaggers, was immediately, much to their shock I've no doubt, buried under an avalanche of complaints. Within a few days, they announced "we're bringing Derf back!"
What they didn't know is that the Plain Dealer had already approached me and I had accepted their offer. I let it be known in this space here that I had NO interest in going back to the weekly rag (I never communicated directly with these guys after the kiss-off email) and apparently they got the message. They clammed up about "bringing Derf back," weathered the storm of complaints and moved on. Without my readers. I'm sure they could care less.
The PD launch took longer than anticipated, mainly because I asked for the summer so I could finish MY FRIEND DAHMER.
This will be a local version of THE CITY, so it doesn't concern or interest most of you. I'll still do a national version. I'll post a link to the local version, just for fun. Obviously, the PD is making it worth my while to draw the extra strip. This is how the strip started, as strange scribbles about Cleveland. Yeah, it won't be political, which is also how it was at the beginning. The politics came post 9-11. I'm good at political humor, but I've always waffled about abandoning the original concept of the strip. This is a chance to go back to my roots. Another twist– I worked at the Plain Dealer from 1986-89, as a snotty, young, hotshot artist, before I found "fame" as an alt-dork scribbler. I quit to develop my own work... which turned out to be THE CITY! It's quite a surprise to find my work back in the PD.
It'll be a challenge, and I don't dispute that it's an odd fit. I give the PD editor props for trying something new, especially since daily newspapers aren't exactly known for that. It could well be that I piss off every septuagenarian Teabagger that subscribes to the Plain Dealer and am sacked in a couple months. I won't worry about it. If it works out, great. If it doesn't, oh well. MY FRIEND DAHMER hits the shelves in March and, if all goes as hoped, my career changes dramatically after that.
I've already gotten a few grumbles from fans about "going corporate." Listen, the only philosophical difference between your average daily and weekly paper these days is that weeklies drop the f-word into every issue to appear cool! Most weeklies like to pass themselves off as "the little guy" but are, in fact, owned by out-of-town corporations, and cut-throat ones to boot. Ones that pay a lot worse and treat their staffs like shit. The Cleveland weekly rag is owned by the Scranton (PA) Times! How "alternative" is THAT? I once naively believed weeklies were the saviors of newspapers. What a dope I was! The local rag here is barely 70 pages these days. The NY Press just folded. It's depressing to watch the business I love circle the drain.
So stay tuned. Should be fun!
Aug. 26, 2011
Ali Ferzat
They broke his hands.
Ali Ferzat, a Syrian cartoonist renowned abroad and popular at home and who has been a finger in the eye to the Assad dictatorship (both father and son) for years, was abducted by government thugs as he left his office, taken to a parking lot and beaten to a pulp. As they broke both his hands, Ferzat, reports his son, was warned to "stop drawing against your masters." He was then dumped, barely conscious, on a roadside.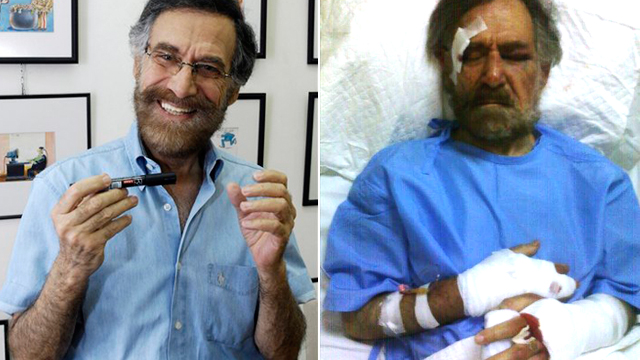 Ferzat is famous as a courageous voice of dissent in a country that doesn't tolerate dissent. It's a tricky, and dangerous, business drawing satire in a totalitarian state. Ferzat danced on the knife edge for years, mostly skewering government corruption and incompetence, without directly lampooning the rulers. The Assads grumbled about his cartoons, but his popularity was such that they didn't try to silence him. Perhaps they viewed him as an outlet for long-suffering Syrians. Let them have their nasty, little cartoons as long as they stay in their homes and we stay in our palaces, was probably the thinking. Then came the Arab Spring. Last March, Ferzat publicly sided with the dissenters and began drawing cartoons that savaged Assad and his cronies. He gave voice to those who had none. A brave man. Yesterday he paid the price.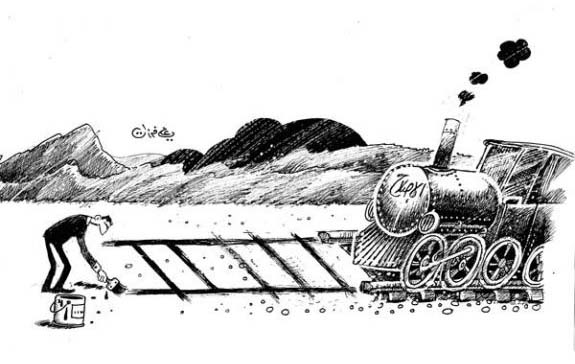 This (above) is one of the cartoons that reportedly led to the beating. Assad paints railroad tracks in the sand as his train has reached the end of the line. In this country, it would be just another lame political cartoon with a tired visual metaphor. But not in Syria. A few weeks ago, the regime killed the singer Ibrahim al-Qashoush, the composer of a popular anti-regime song, and dumped his body in a river with his vocal chords ripped out of his throat. Activist film producer Shadi Abu Fakher went missing on July 23 and has not been heard of since. It was no doubt fear of further enraging the population that kept the wildly popular Ferzat from meeting a similar fate. This time.
I've gotten a couple death threats over the years, but I never believed for a second that some Teabagger was going to roll up to me astride his fatty scooter and open fire. Nor did I ever worry about a black SUV pulling up in front of my house and the sound of jackboots thundering up the walk. These are very real fears for a cartoonist like Ferzat, ones he operates under on a daily basis, fears that are now reality. I am in awe of him.