"The funniest book of the year!" –Time.com
"Laugh-out-loud funny!" – Cleveland Plain Dealer
"A squishy, slimy, smelling, gut-busting comical expose!" – Comic Buyer's Guide
"Funny and utterly disgusting! I can't think of a better recommendation. – Savantmag
The original Eisner-nominated graphic novella, a hilarious, stomach-churning memoir of the unforgettable period 19-year-old Derf spent as a garbageman in his small Ohio hometown.
Follow Derf and his partner, Mike, as they struggle with exploding garbage bags, idiot co-workers, an oppressive boss, bizarre townfolk, the weather and pile after pile of reeking, maggot-covered garbage.
In TRASHED, Derf lovingly recounts the nauseating details of the shit job that sets the standard for all shit jobs. Climb aboard the clanking garbage truck named Cyclops for a ride you won't soon forget!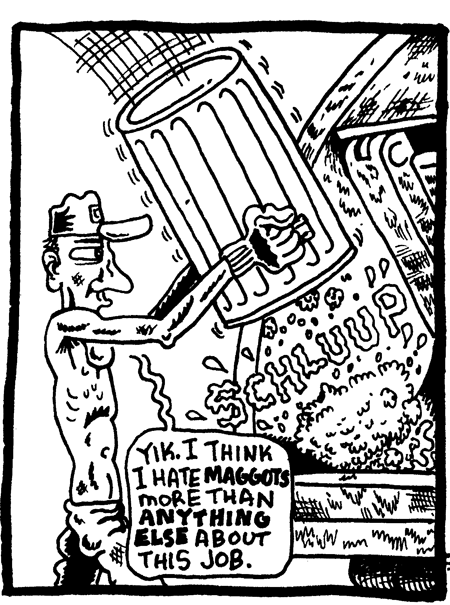 52 pages
SLG Publishing
$6.95