Hey, feel free to friend me on Facebook. I'm a social media slut. I friend anyone who asks. Of course, you'll read nothing but lies on my page.
And, of course, the obligatory Twitter.
May 14, 2013
The media hordes descend on Cleveland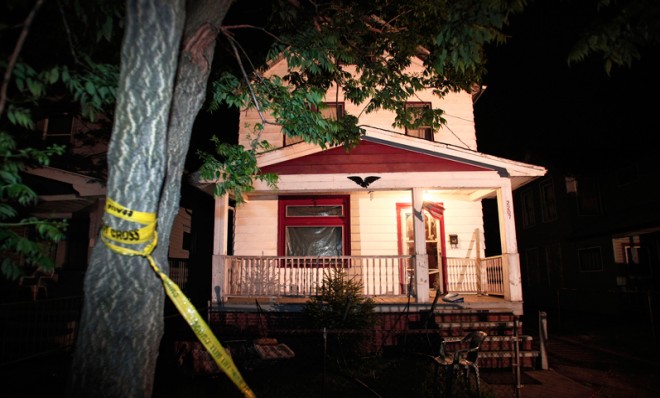 Crazy stuff going on here in Cleveland. Just when you think human beings can't get anymore cruel and debauched, along comes someone like Ariel Castro.
I drive past Seymour Ave. all the time, probably once a week. It's a desolate part of the Near West Side, as we call it here, boarded up and blighted. But it's nestled between two very vibrant neighborhoods, The W. 25th District and Tremont, which are both my favorite parts of the city, so I pass by Seymour Ave. frequently to hop on the nearby highway over to the East Side where I live. The area is part of Cleveland's growing Hispanic ghetto. It's a rough part of town. Most news stories describe it as "hardscrabble." That it is: battered streets, unkempt lawns, abandoned houses. thanks to the big banks and their economic crimes which devastated inner-city Cleveland neighborhoods. to Lots of gangs, by Cleveland standards anyways, which is not comparable to LA or New York, lots of drug activity. I would never park my car and stroll through this neighborhood. The three girls (now women) didn't live here, even though that's the impression that was given. They were all abducted from nearby working-class neighborhoods that are a little nicer. Between the cops, the throng of media and the large crowds of rubber-necking locals, the street has seen more life than it has in 50 years.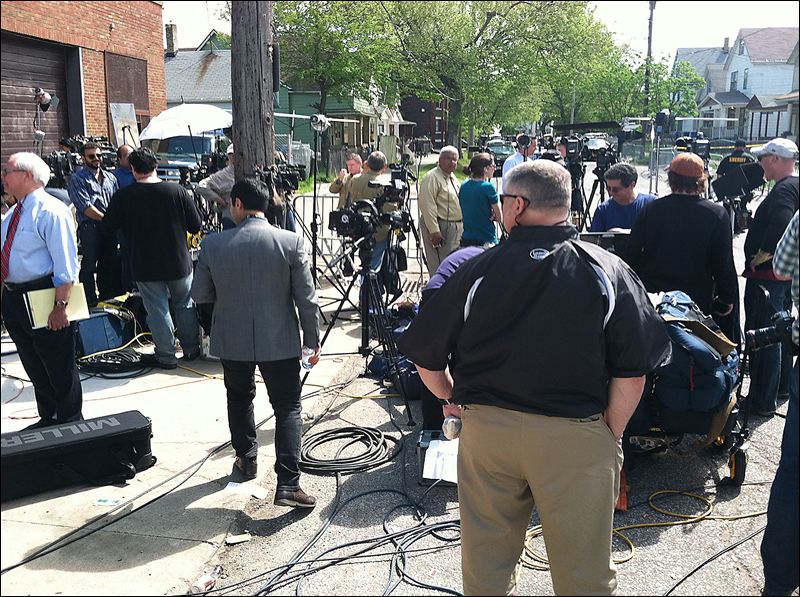 The national media, of course, has been its usual loathsome invading force, and, also as usual, has f-ed up the story. USA Today made the most egregious blunder, reporting that neighbors have spotted naked women with dog leashes on their necks crawling around on all fours in Castro's back yard, and that repeated calls to police about this were ignored. Many other media picked up the USA Today story and re-posted it. It's not true. Never happened. There are no 9-1-1 records (all of which are recorded, logged and archived) that detail anything of the sort and it's preposterous to think that the cops, who have been steadily searching for these women for a decade, would have ignored such reports. That a reporter would rush to print with such an outlandish story, without checking the facts of it, is unforgivable. Moreover, the "neighbors" that USA Today interviewed are, in fact, anything but. Creeps from all over town flocked to Seymour Ave. after the story broke and Mr. Charles Ramsey became a media sensation, with invented stories and a desire to get on camera or in print. ˆThe USA Today reporter fell for one of these. It's a blunder a college reporter would make! Doesn't seem to be a major news event that some newspaper or TV news outfit doesn't bungle, does there? And I won't even expound on the newsporn antics of tragedy dominatrix Nancy Grace and her repellant ilk at the 24-hour newschannels. The depressing state of media in 2013.

The local rag, the Cleveland Plain Dealer, has been doing a stellar job covering this. That's really the only place to go if you want to read about this story. Unfortunately, the paper's website, designed and run by its corporate parent, is a clunky Edsel of a site, but it's worth the aggravation to slog through it. My own take on the unfolding events is below. I normally don't post the Cleveland cartoons I draw for the Plain Dealer, because why would any of you outside of Cleveland care, but I think it's interesting how the perception of a major story like this differs from a local like me to everyone else watching it unfold from afar. THis story is personal for us here in Cleveland. These women have been in the news off and on for a decade. So this is my take on Charles Ramsey and the media coverage: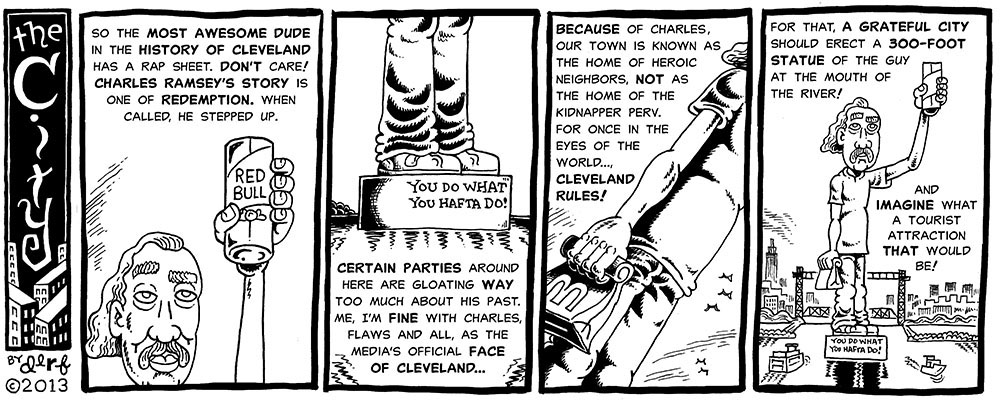 Mark Naymik, the metro columnist for the PD has some great observations on this subject as well. When Gina DeJesus, one of the freed women, returned to her home and a joyous reunion with her family, a TV news copter hovered overhead to film her from above. As Naymik astutely points out, the media has made the women prisoners all over again with these kind of stunts.
May 6, 2013
Cons & stuff
So this coming weekend I'll be in Toronto, appearing at TCAF (Toronto Comics Arts Fest). If you're anywhere near Toronto and you've been tempted to go, trust me, make the effort. It's as good a comics fest as there is and it's Toronto!

Everything is in and around the Toronto Reference Library, right at Eaton Centre in the heart of downtown Toronto. Best of all... admission is free! I'll be speaking Friday afternoon in the Library, as part of an ancillary event fro scholars and librarians. I think it's open to all. Then Saturday as part of a memoir panel from 2:45 to 3:45. Otherwise, I'll be at a table in the main hall, selling and signing.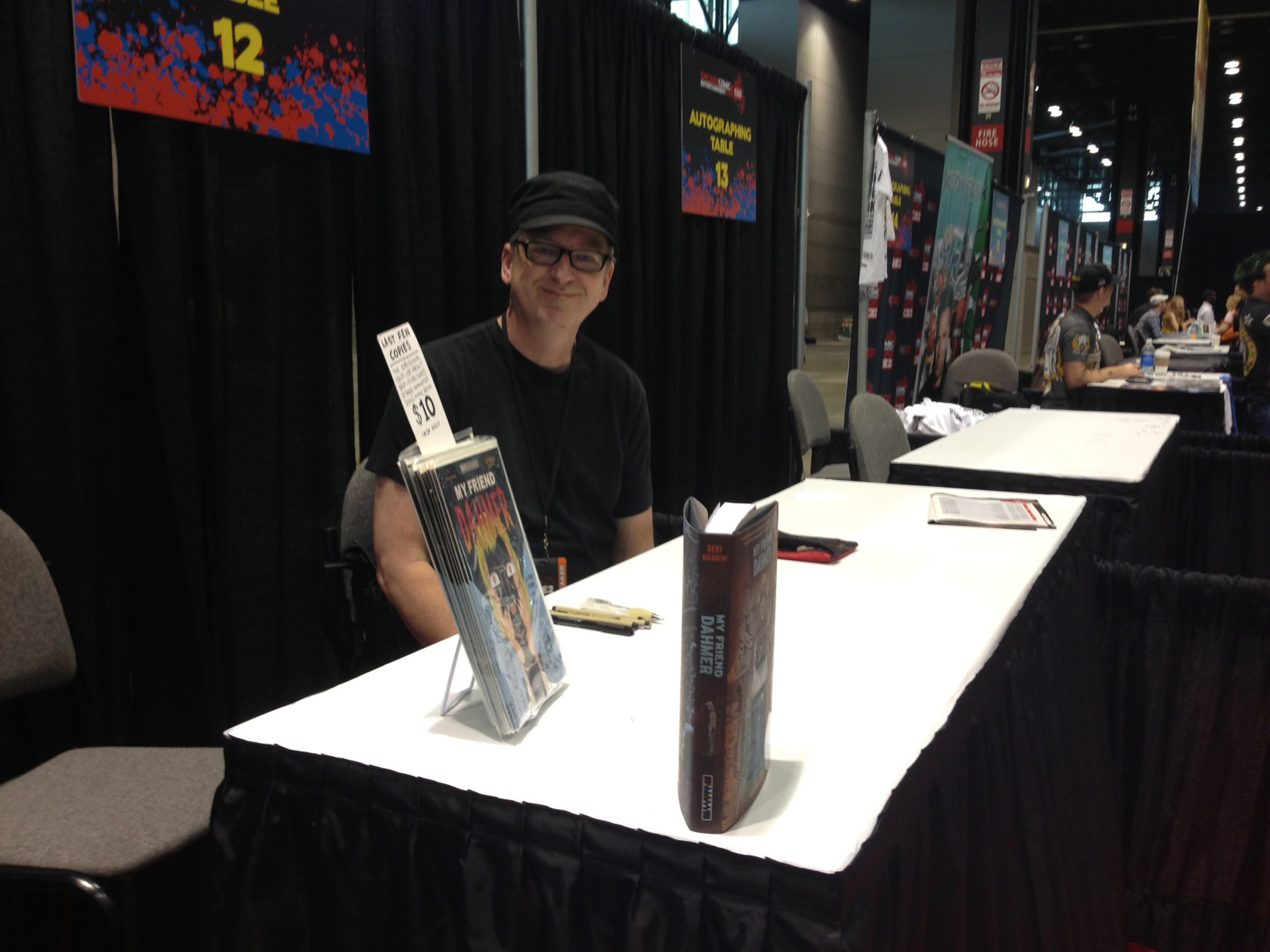 Had a good time last weekend at C2E2 in Chicago (above). I don't do many mainstream cons, but they asked me to speak and give my MY FRIEND DAHMER presentation, so I agreed to go. besides, any chance to visit Chicago, my favorite American city, is not to be passed up. The talk went great. A standing-room-only crowd, despite the dog slot of 11 am on a Sunday morning, and a long line at the autograph table afterwards. Even if that line was dwarfed by the neighboring one for the dude who once played the Green Mighty Morphin Power Ranger. Cons always keep you humble.
Got to wander around the con all day until closing. Didn't buy anything. In fact, I wasn't even tempted. Mainstream cons anymore are the same 40 big dealers, hauling in the same truckloads of ridiculously overpriced books. I'm so used to getting books for a song on eBay (with a little luck and a lot of persistence, of course) that I'm simply not going to pay the vastly inflated Overstreet Guide price for a comic book. C2E2 had more clothing than most cons, t-shirts and goofy hats. Wasn't interested in that either. There just weren't any bargains to be had anywhere. I did enjoy looking at some wares, particularly some of the originals the art dealers had spread out on tables. One guy had some great Jack Kirby pages. But these were all priced at $1,000 and up, so it was window shopping only. That's all fine with me. I have enough crap on my shelves. And I got a kick out of the Cosplay.
Met a couple interesting people in Artist's Alley. The highlight was a brief chat with Len Wein, the legendary writer for Marvel and DC who co-created (along with the artists) Swamp Thing and Wolverine and the re-launched X-men (Storm, NIghtcrawler, Colossus etc), just to name a few.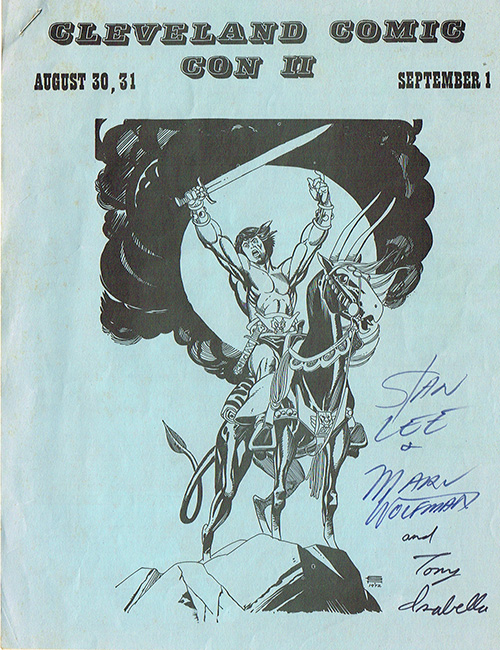 Way back in 1975, when I was a pimply, emaciated 15 year old comix dork, I attended the Cleveland Comic Co. This was the one and only attempt to foster a major con in Cleveland, one that sadly failed after a year or two. But it was a decent con in 1975, an era long before the megacons like San Diego and C2E2 that dominate the schedule now. The con had a couple "name" guests. One of them was Len, who was the big cheese at Marvel at the time. At one point during the day, I noticed him sitting with fellow Marvel writer Tony Isabella, on the edge of the stage that was on one end of the large auditorium in the old Stouffer Hotel where the con was being held. I meekly approached the first comics pro I had ever met face-to-face and asked if he would sign my program. Wein scribbled "Stan Lee" on the cover and handed it back to me with a grin. "Not falling for that, huh?" he asked, took the program back and wrote "Marv Wolfman" underneath. It was just after, or perhaps just before, Wein had stepped down as Marvel's editor-in-chief and handed the job to fellow scribe Wolfman, so who knows what was going through his mind. Isabella shook his head and properly signed the program and handed it back to me with a weary look. Wotta jerk, I thought, as I walked away with my now-useless program. But... a few minutes later, I found a NM copy of X-men #1 for $20, one of my all-time greatest acquisitions, a prize book I sold 25 years later for enough bread that it funded two trips to Europe! So, in the greater scope of things, it was a con I remember quite fondly, smartass Len Wein and all.

I regaled Wein with this tale at C2E2. He laughed, with a pained look on his face and a shake of his head.

I'll be back in the Windy City twice more before mid-summer. And that, I think, will pretty much wrap up travel for awhile, unless something unexpected comes along. Some exciting trips in the works for 2014.
April 21, 2013
Quite a week, eh?
Above: the police video from a helicopter showing the capture of suspect Dzhokhar Tsarnaev. Thermal imaging showed Tsarnaev's location, and that he was alive. Then the bomb robot arrives and pulls the tarp off the boat. Then the flash-bang grenades.
I was obsessively following the events of the past few days online and on TV, as I'm sure all of you were, too. Mostly I posted on Facebook. A little bit on Twitter, although I tired of the latter pretty quick. I know I'm bucking a trend there.
The early critique is that the media blew it again, with a plethora of mistakes and bad reporting. I disagree. I thought certain news organizations were outstanding. Others were absolute crap. That's the way it is now. The problem with this world of unlimited media and unlimited choices is that it takes some effort and a discerning eye to find reliable reporting. The responsibility is ours.
The default for any big breaking story is to switch on CNN, check GoogleNews and log onto Twitter. The Boston story, and the earlier Newtown story, shows those common choices are the WORST you could have made! I went a different route altogether, and then posted breaking updates on Facebook with links to the news sources I was monitoring. Over and over, friends commented "Where do you get this stuff?"
Here's how I follow a breaking story. Newspapers, despite their well-documented troubles, are still the best news gathering operations out there. No other media can match the sheer resources a newspaper can throw at a story. When a story breaks, I immediately head to the largest newspaper in the vicinity of the event. In the case of Newtown, it was the NY Times. For the Marathon Bombing, it was the Boston Globe. It's simple logic. These papers have the personnel and the resources, the sources in local government, and an intimate knowledge of the area. News operations coming in from outside do not. It has to be a GOOD newspaper, though. If it's some little rag that's been downsized to a skeleton crew by its corporate parent, this rule doesn't apply.

Additionally, I pick a TV news organization that I see is on top of the story. If it makes a major blunder, I bail. Which means there's no point in turning on FoxNews or CNN at all. It's easy to tun them on and leave them on, but resist the temptation. In fact, I don't even have cable TV! And one of the main reasons I had for dumping it, was to erase the newschannels from my day.
GoogleNews? Don't even bother. The news posted there has nothing to do with quality. It's all about who optimizes the best, or, more commonly, who pays Google to be placed at the top. There isn't an editorial team selecting placement using a newsman's eye. It's just a river of news that's very frustrating to wade through.

So looking back at the Marathon story, here's one newsjunkie's opinion:
Winners
BOSTON GLOBE. Outstanding coverage. It's their back yard, of course, but the pathetic Boston Herald serves as an example of how that's NOT always an advantage. The Globe's live blog was the single best source of real-time reporting. Its entire reporting staff was positioned around the city and posted news as it happened. The Globe smartly dropped its paywal as the story unfolded. Very few mistakes made it into print and those that did came directly from authorities, especially the gargantuan police commish who made some outlandishly inaccurate statements. The Globe moved quickly to debunk these. Clear space for that Pulitizer right now.
NBC NEWS. By far the best TV coverage. Its reporters were on top of the story from the start. Pete Williams was excellent and a lone voice of accuracy when the newschannels started blowing it. Its reporters on the ground had the best positioning. Brian Williams was cool and measured, even when a live feed from the local affiliate hilariously broadcast a string of off-the-air swearing from a producer. Its only blunder was when Luke Russert speculated about a Waco link on Twitter and that was pretty much the last we heard from him. One reporter was just a couple hundred yards from the first shootout. NBC was the first to report Suspect 2 had been caught alive. Got it right, got it first. CBS got a slow start, but did some good reporting down the stretch. ABC had some good reporting, but Diane Sawyer, who appeared poised to go into schmaltz-mode at any second, is more than I can stomach. At least she wasn't drunk this time! Overall impression– network news is back! And NBC was head and shoulders above everyone else on TV.
Aaaaand the Losers
TWITTER. EPIC fail. So much for "citizen journalism." Turns out you DO have to know what you're doing in order to cover a news event! Reddit was no better. Innocent bystanders fingers as suspects, an avalanche of misinformation and inaccuracies throughout. Turned a missing Brown Univ. student into a sleeper al Qaeda. As the manhunt began, Boston police had to plead with Tweeters (or should we call them Twits from here on?) to stop posting details of ongoing operations and police movements in case suspects were monitoring tweets. And of course, a few jerks set up fake Twitter accounts from the Suspects, ones that fooled a couple gullible reporters, and other Tweeters purposely spread misinformation as, I guess, "fun" little pranks. It was a tsunami of white noise that swept up quite a few news organizations, especially...
THE 24-HOUR NEWSCHANNELS. Another DREADFUL performance during a major event. Rampant speculation and Twitter rumors instead of real reporting. Major blunders as the story broke.
Both CNN and FoxNews essentially invented a suspect and both announced he had been arrested and was due in federal court any minute. Totally untrue. CNN refused to fully retract until long after NBC had called them on it. Many news organizations chased the fake story, preventing them from covering real events. After realizing its blunder, CNN went lame and over-cautious and was ten steps being the network news coverage the rest of the way. CNN reporter John King should be reassigned to covering dog shows for his mistakes.
FoxNews is, of course, a joke, but CNN has plummeted down to the same level (MSNBC doesn't really count as a news channel– it's all-opinion all the time). No wonder CNN's ratings are in the tank! John Stewart mocked CNN as a "human centipede of news." Wonder if CNN director Jeff Zucker still thinks critics are making fun of the network, as he famously phrased it a few months ago, "out of jealousy"?
Have to toss The Associated Press in here, too. The newswire service, traditionally reliable, made many of the same blunders as CNN. Very troubling, as most local newspapers and tv stations rely on AP reports for content, since neither have the manpower or budget to cover out-of-town events anymore.
THE NY POST. Even by their lofty standards, wow. Rampant racism in headlines and stories alike. Originally claimed 12 died in the bombings and didn't correct the error for several days. Fingered the wrong suspects in photos of the crowds, circled two innocent bystanders in red under the headline "Bag men." Rupert can start writing those seven-figure settlement checks now.
Overall, it was a triumph for professional news organizations, specifically newspapers and network TV news, and that makes this journalism grad very happy. It was especially thrilling to see old media employ new media to report the event. The bottom line: professionalism still matters– a lot– and there is no such thing as a "citizen journalist." Let's call them what they are: amateurs. It was an embarrassing failure for social media and the newschannels. The question, of course, is what happens 10 years from now when most of the newspapers in this country are gone? Who fills that huge gap? Personally, I think the impending loss of even a downsized and corporately muzzled watchdog press is the greatest threat facing our democracy.
April 15, 2013
Punk Rock & Trailer Parks Item-of-the-Month
Here's a promo from 1988 for the Eddie Marshall Show, a legendary public-access talk show here in Ohio, mainly famous for regular guest appearances by Toby Radloff, the "genius nerd" who was one of Harvey Pekar's favorite co-workers and featured in many American Splendor stories.

The stars of the promo are, of course, the late Joey Ramone and the late Stiv Bator, the front man of the Dead Boys and later Lords of the New Church, and also an Akron boy who guest stars in PR&TP. The Prospect Ave. Stiv refers to here is a once-colorful stretch of road in downtown Cleveland that looked like a set from a Blaxploitation film. It was famous for its cheesy electronic stores, wig and hat shoppes, the world famous Record Rendezvous (where Allen Freed first heard the records he would name "rock-n-roll"), used bookstores, drug dealers and hookers. It was my favorite street in the city. Sadly, it's all been "revived" and today is mostly sports bars, thanks to the neighboring baseball and basketball stadiums that were constructed in the Nineties.
April 9, 2013
An Ode to Annette.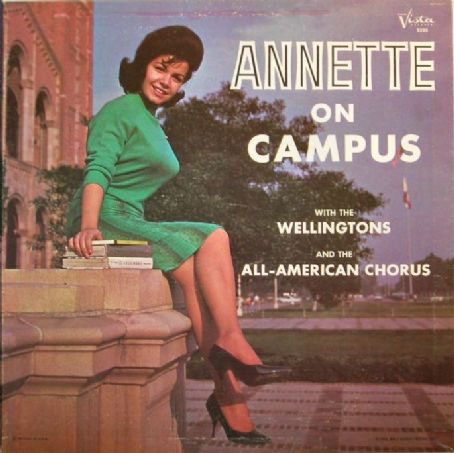 Holy crap, what's that bra made of?

I've been an Annette Funicello fan since I was a kid. Nah, I'm too young for the Mickey Mouse Club, so I didn't experience the great sexual awakening of the doo-wop generation when Annette's boobies miraculously appeared between Season 1 and 2. My sexual obsession came much later, on lazy weekend afternoons as this statuesque siren filled the screen of the family Zenith. The Annette I first encountered was a full-blown woman, and how, as Dee Dee in American International's Beach Party movies.
That hair, piled high, jet-black and seemingly glued into place with some secret NASA product. It was mesmerizing. Who would willingly wear their hair like that? And why? But the beehive was nowhere near as mesmerizing as those gravity-defying knockers, stuffed into pointy, early-Sixties bras to form twin peaks of sex. Her character's name was Dee Dee for cripe's sake, which matched her cup size. Annette was a friggin fertility goddess! Sure, she was scrubbed Walt Disney clean, and probably went to Mass three times a week, and poor Frankie never appeared to even get as far as the clasp on that titanium bra, but oh I wasn't falling for that act. Annette was built for speed, brother! She just had to be a dirty girl.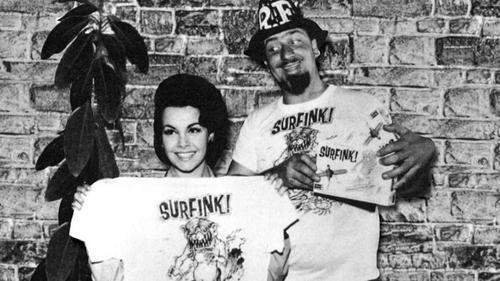 Above: Annette and Ed "Big Daddy" Roth!
Despite my regular musings here about TV and movies, I wasn't glued to the set in our lower-level family room all day. More often than not I was sprawled out on the couch, drawing or reading comic books, and the TV was playing in the background. Saturday's at our house were cartoons in the morning, Big Time Wrestling at lunch, and then monster movies all afternoon. My friends came and went, as did my kid brother and his friends. The TV was just on, not because we were watching it, but because it was TV and we weren't in school and it had to be on.
Sunday, the less fun of the weekend days, thanks to church and because school loomed the next morning like a black wall of doom, was religious bullshit all morning, followed by Meet the Press or some similar dull news program. This was ok by me, since I was at Sunday Youth Group anyways. By the time I returned in the afternoon, the five stations we could receive out in the boonies (this is long before cable) started in with the afternoon movies. The cheapo UHF station I favored had Beach Party movies in continuous rotation, a different one every weekend, until the cycle began anew. The station must have gotten a package deal. Before the invention of the Infomercial, this is how programmers filled their schedules.

I seldom missed a beach Party film. There was just something so comfortingly stupid about the things. And there were girls in bikinis. And Annette with her gravity-defying hair and boobs. I could quote lines from the films at will! Many was the time I tried to give my kid brother the Erich von Zipper "finger" at the dinner table, only to set off bellows and slaps, followed by a round of indiscriminate head cuffs by the Old Man.
What was the attraction? Aw, I've always loved bad film and they don't come schlockier or more inexplicably bizarre than Beach Party movies. American International made the "classic" series, seven movies starring Frankie and Annette, from 1963 to 1966. They featured a regular cast of cleancut beach bums and a who's who of name actors who had fallen on B-movie hard times, like Basil Rathbone, Buddy Hackett, Mickey Rooney and Buster Keaton. Add to that were new faces who would dominate TV screens throughout the Sixties and Seventies like Paul Lynde, Teri Garr, Linda Evans and Don Rickles. Top it off with some weird-but-great musical turns by Dick Dale, a teenage Stevie Wonder, The Animals and the Righteous Bros., and hot rods by Ed "Big Daddy" Roth and it was a feast of low-grade psychotronic craparoo!
Sure, the surf culture depicted in these films had no basis in reality. Even I, midwestern smalltown rube that I was, knew that. But c'mon, lazy Sunday afternoons aren't for gritty realism.
There were also a number of copycat films that regularly aired, even worse and more stupid, but lacking the fun and funk of the Classic Seven. And AIP tried to recapture the Beach Party "magic" with spinoffs set at ski resorts and drag strips, not to mention a few cheesy horror films set to the same vibe, like Dr. Goldfoot and the Bikini Machine. These are great, too. But no Annette.
Fans of Punk Rock & Trailer Parks will recall I had Otto waxing, as only he can, about Beach Party movies. Art inspires art. I write what I know. So here's to you, Annette, my voluptuous, virginal inspiration.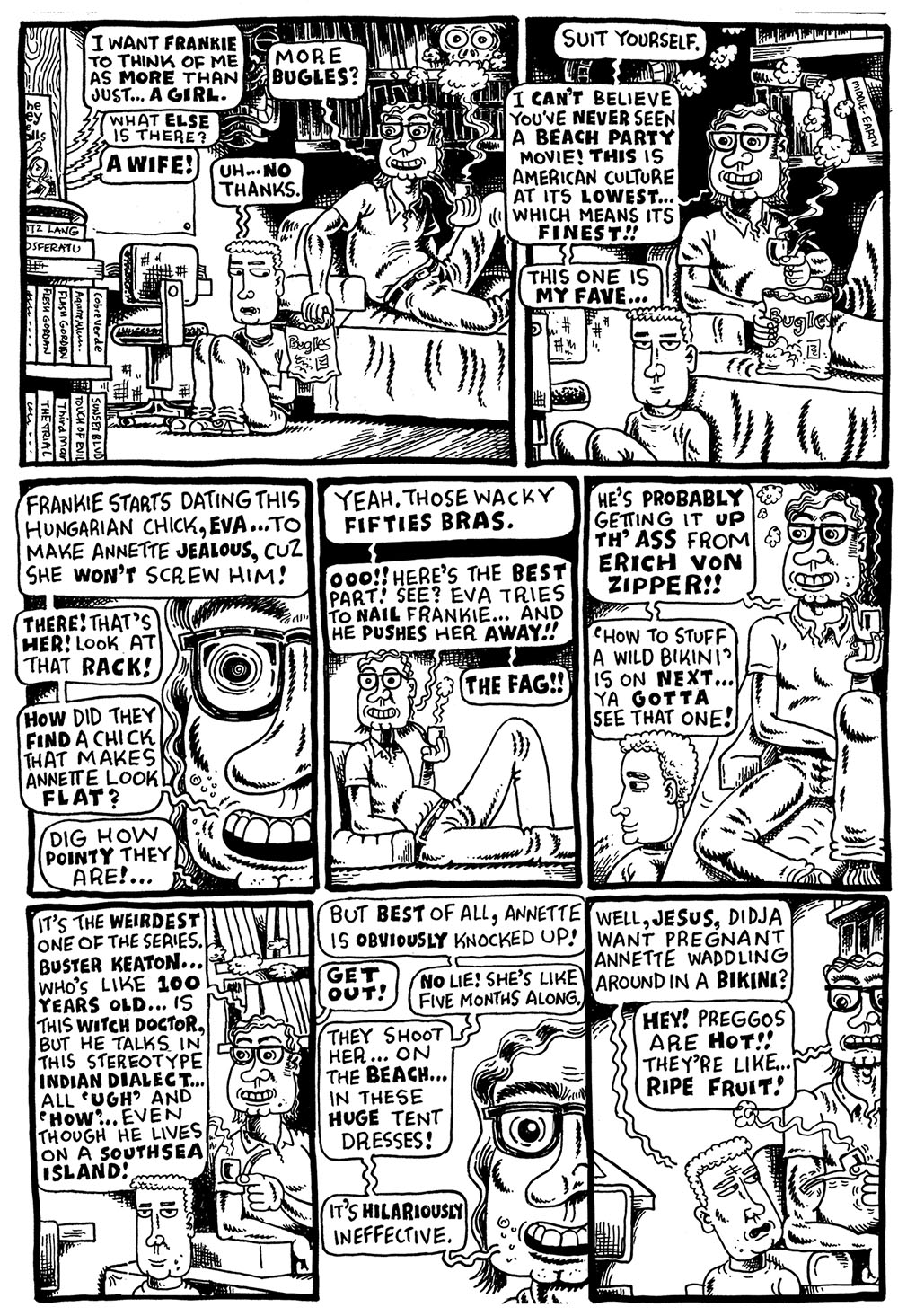 April 8, 2013

Back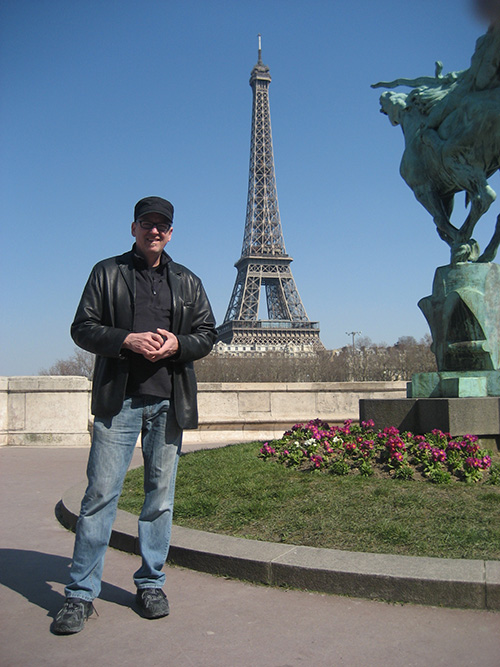 Above: Yes, the tough life of an author on the road.
Back from Europe. Man, what a time! I'm living large, folks, in every way but financial anyways, and loving every minute of it. To paraphrase Elvis Costello "I'm an overnight sensation.... after 30 years."

Sorry I didn't blog through the trip, which coincided with the release of the French version of my book, Mon ami Dahmer. My hosts, the best graphic novel publishers in France, Ca et la, brought me over for a week of signings and events in Paris and Brussels. I Facebooked and Tweeted plenty. This space is for more... ahem... thoughtful musings. That, and I just didn't want to waste time messing around with Dreamweaver (I really need to redesign this bastard). I could sit in my hotel and blog, or walk the streets of Paris. Now which would you chose?

Paris has over 400 independent bookstores. Let that sink in: over 400. Amazon has made a dent, but, by law, are forbidden from offering anything more than a 20-percent discount. No selling books below cost to drive competition out of business. No "showrooming" (and has there ever been a more loathsome retail fad than THAT?). In Paris, atmosphere and shopping experience actually matter. And the bookstores are simply terrific.
I was treated like visiting royalty where ever I went. The French love books... and love comix. More than that, they respect comix, as a storytelling art form. Superhero dreck has never really had much distribution here, so comix isn't burdened with the same lowbrow "that's kid stuff" stigma that we have been trying to shuck off here in the States for the past 40 years. It's refreshing.

It's a real delight to visit a place with such a comix tradition. I first fell in love with French work when I was a teenager and Heavy Metal debuted and brought the stories of Philippe Druillet, Yves Chaland and, especially Moebius to US readers. In fact, I was so inspired that an ill-fated Moebius phase in high school turned my senior year into a total unproductive waste. (if you're going to pick someone to copy, don't make it a genius, that was the hard lesson learned). I even got my mitts on copies of Metal Hurlant, the original French magazine of which Heavy Metal was the English-language spawn.
I have to tell you, even outside the bookstores, I found no evidence of the infamous Parisian snottiness, outside of a histrionic cab driver who couldn't follow my wife's directions. people couldn't have been nicer. I think the Chunnel has changed things a lot. There's so much interaction between Britain and France now, the locals don't get all Francophile on visitors. Or maybe it's just me. After all, I'm the guy who finds new York City a friendly place!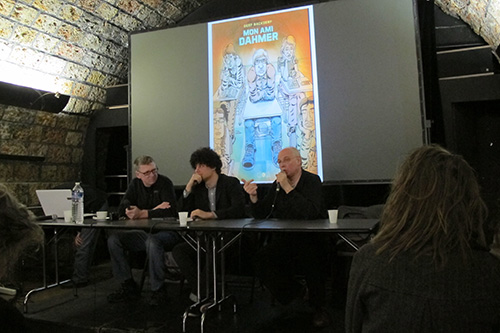 Above: me, my translator and noted crime author Stephane Bourgoin, who invited me to speak at his crime convention, The Road to Crime, a month-long series of readings, panels and films. The French love true crime, apparently. Stephane is their best-selling crime author. Really great guy with a fascinating life story. His wife, you see, was murdered by a serial killer and he devoted his life to the study of murderers and serial killers. In fact, he interviewed Jeff in prison! The con was held in a bizarre 300-year-old meat locker out near the French National Library. The rooms were a series of long, stone tunnels. Very creepy and fitting for the topic.
I got HUGE media coverage of my visit. Even more than I enjoyed in the States when MFD was first released! I received write-ups in every French newspaper and was a guest on several radio stations, including the biggest show on Radio France. That one was live, with a translator whispering in my ear. An interesting experience, a bit awkward, but everyone was giddy with the segment.
The reaction of the fans was also curiously different. There is, of course, none of the stigma surrounding Dahmer in France. In fact, most there don't know who Dahmer is. His infamy has not spread to that country. Funny how that works, as Dahmer is well known in other European countries. The upshot is the French judge the book purely as a story, and how I've told it, and are not concerned at all with extraneous issues like how the victims families will feel or whether or not I have the "right" to tell the story, or whether I'm "exploiting" the whole thing, or any of the other grouses I hear from time to time.
The trip was such a massive success, my publisher is bringing me back later, for two weeks this time! Très Bien!

March 21, 2013
The Styrenes!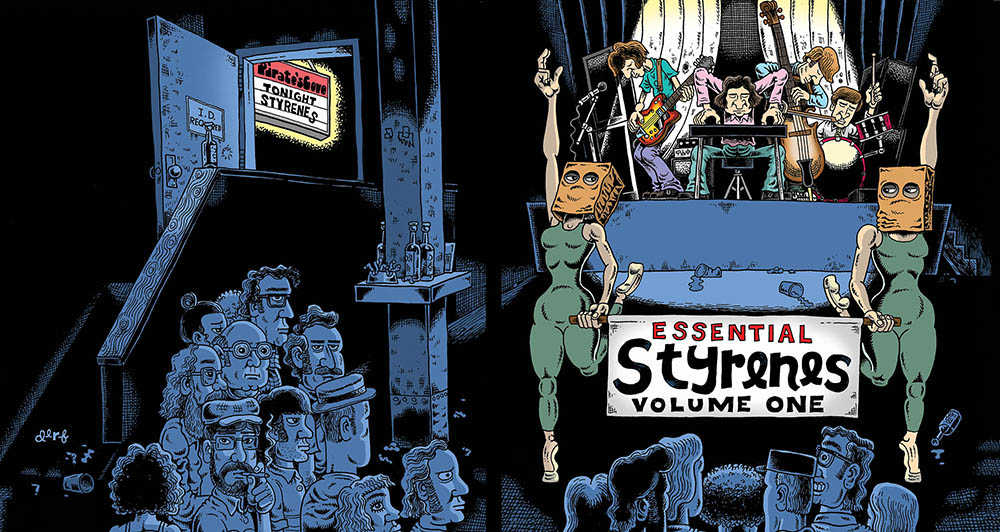 I created the wrap-around cover for a double 7-inch vinyl EP, Essential Styrenes Volume One 1975-1979. Turned out pretty well, in my opinion. Click on the image above for a closer look.
The Syrenes were one of the bands that crawled out of Ohio's counter-culture ooze as the Punk Era was a-borning. This is a 'best of' collection from a band that Rolling Stone once called 'post punk before punk ever happened.' The Styrenes formed in Cleveland in early 1975 from the wreckage of earlier proto-punk bands, The Mirrors and The Electric Eels. And yes, they did indeed have a pair of dancers!
The above scene is a re-creation of the legendary Pirate's Cove, a small punk club on the banks of the infamous Cuyahoga River in an old industrial area of the city known as The Flats. It was alien landscape of smelting shops, crooked Victorian warehouses and slag heaps. Massive bridges loomed overhead, thick fog rolled off the river at night and giant ore ships glided silently by, towering over the squat buildings on the shore. Winding along the riverbank was Old River Road, a narrow brick street that is one of the city's oldest. Taverns for steel workers and longshoremen were shoehorned between bridge footings and machine shops. Jim Jarmusch immortalized this area in his classic cult film Stranger Than Paradise. And right there, with a few dozen mutants lurking outside the front entrance, was the Pirate's Cove, a small bunker that held a couple hundred people tops. It was a strange, totally fitting, spawning ground for Ohio punk.

In the mid-80s, The Flats surrounding the Cove became a riotous nightclub district with immense weekend crowds of big-hair girls and the muscle-bound, mulleted alpha males who hunted them. The Cove changed its name to Peabody's Downunder and became the premier venue for the emerging Alt-rock scene. It was one of my all-time favorite places to hear live music, and I saw dozens of shows there, from Husker Du to Nick Cave to the Pixies.

Eventually, the rep of the district became so infamous for drunkeness, fights, crackhead muggings and cop head-bashing, that the city cracked down and closed many of the clubs. The tipping point came in the summer of 2001 when three drunken idiots on separate weekends stumbled into the river and drowned. I drew a cover for the Cleveland Free Times that riffed on this and Flats clubowners yanked their ads from the paper in protest (the publisher was not pleased). AFter that, the once popular Flats became a dark and barren no-man's-land again. Five years ago, a local developer bought up the entire area, bulldozed it all (historical buildings as well) and built what he hopes to be a lucrative development of condos, eateries and corporate offices.

So, much as I did with The Bank punk club in Punk Rock & Trailer Parks, this was a chance to re-create a place that is long gone and visually forgotten. In fact, some of you probably recognize Otto himself in the crowd! There are also a couple characters from My Friend Dahmer!

Essential Styrenes Volume One contains eleven songs in chronological order. Disc one opens with the 1975 classic Drano in Your Veins. Noise from the Garage, a monologue with music, and fast rocking songs follow, including the often-covered Jaguar Ride. Disc two contains tracks that in 1979 had been scheduled for release as solo singles from band members Marotta and Jamie Klimek, but did not appear until 1982.
You can buy a copy HERE
March 17, 2013
Persepolis too dangerous for Chicago schools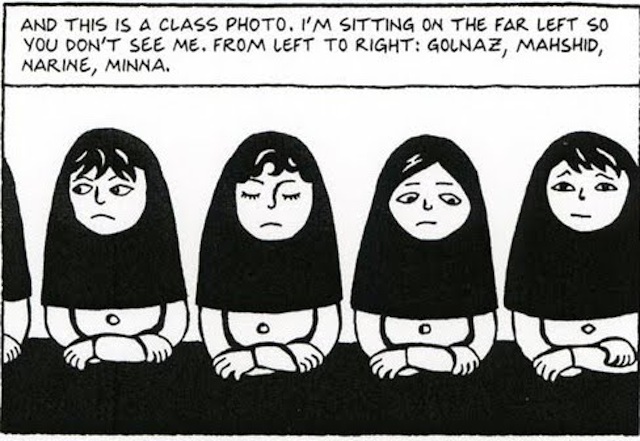 A firestorm erupted in Chicago yesterday when Public Schools CEO Barbara Byrd-Bennett ordered the acclaimed graphic novel Persepolis removed from all classrooms and school libraries district-wide. Within hours, Chicago teachers, librarians, students, the local ACLU and comix fans were up in arms. Local media went bonkers and the story spread virally from there.

Persepolis, as most of you know, is Marjane Satrap's graphic novel memoir of a young girl growing up in the Ayatollah's Iran. It was later made into an animated film in 2007 which garnered an Oscar nomination. It should have won, instead of the overrated Pixar blockbuster, Ratatouille.
What spurred this ban? Unclear. Byrd-Bennett blames a principal (unnamed) who complained about the book's violence and adult content, of which there is virtually none that would in any way upset a modern 7th grader. I have a sneaking suspicion a parent or parents raised a stink about their kid reading some book by a damn I-ranian about muslims! Or maybe it was some p.c. numbskull, who felt the book was an insult to muslims. In any case, it often takes just a few complaints for bureaucrats to swing into action. Start the bonfires!
The district even confiscated teacher's personal copies.
I've no doubt Byrd-Bennett was unfamiliar with this book, or had the slightest clue that Chicago is one of the biggest comix towns in the world. Within hours, she was scrambling to extricate her foot from the giant pile of crap into which she had stomped. She backpedaled furiously and announced with as much fanfare as the bureaucracy could muster that it was all a communication mix-up and Persepolis was UN-banned!

Except it's not.

The book is still banned from curriculums in grades 7 to 10. Persepolis will eventually be allowed, in AP English classes only, in grades 11 and 12, but only after a training guide for teachers can be drafted by the central curriculum department and set in place. Because students are too gullible and teachers too incompetent to be trusted to understand this book without the helpful guidance of of a curriculum pencil-pusher. We can all hold our breath waiting for that teaching guide. They'll put it off until the end of the year, then comes summer break and by next Fall, there'll be football and band and what was the name of that stupid comic book again....?
"We want to make sure that the message about inhumanity [is what] kids walk away with, not the images of someone with exposed body parts urinating on someone's back or someone being tortured," said the Head of Teaching and Learning, "We are not protesting the value of this book as a work of art. We just want to make sure that when we put this book into the hands of students, they have the background, the maturity to appreciate the book."
Yeah, I'm sure 15 and 16 year olds would be so stunned by a couple panels of cartoon torture that they'd be too upset to watch The Walking Dead or play Resident Evil later that evening.
Byrd-Bennett also insisted that confiscating Persepolis from school libraries was an error by an overzealous underling who misunderstood her order. Sure it was. I'm betting all but a few token copies quietly disappear from school libraries by next year, too.
So it's not a ban, even if it is, because, why, the CEO said it isn't a ban! What a steaming load of doublespeak.
"The only place we've heard of this book being banned is in Iran," teachers union official Kristine Mayle declared.
March 15, 2013
Portman drops a gay bomb.
Those fell voices you hear wafting in the air are from Ohio's Teabaggers, lamenting Sen. Bob Portman's epic betrayal on gay marriage. It's a fun day here in the Buckeye State! If you missed the news, our GOP senator decided gay marriage was just fine when his son revealed he's a poofta. Portman made this pronouncement during CPAC week, making him either the bravest or dumbest politician on the red side of the room.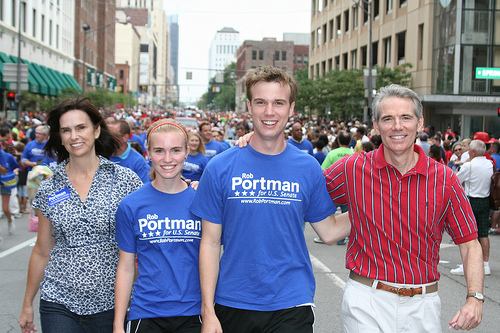 Heres the story in today's Cleveland rag. I recommend holding your breath and reading the comments section after. This is where discourse crawls to die. Someone at Advance Inc., the corporate parent that runs the site, has been whacking the more bigoted ones, mere seconds after they're posted. Fun job.
So... good for Bob. Let's hope his kid can't get affordable health care either! Portman has another four years before he has to face far-right wrath in a primary. A lot can change in that time, especially if the Tea Party continues to nominate wackadoodles only to see them get steamrolled in subsequent elections. Or maybe not. Maybe the Tea Party is the doom of the Republican Party, which will be ridden into irrelevance by their extremists. Aw, who knows. I'm not smart enough to figure any of that out.
But the worst thing that can happen to progressives is that the GOP drops its opposition to gay rights. Rational conservatives are calling for just that, but, of course, the religious right disagrees. Here's what Christian radio magnate Rich Bott had to say: "Another Republican establishment figure betrays the party platform and damages the 'brand'. What's wrong with this picture? Lack of good, clear religious/moral teaching for starters." Rightwing Noisemaker Bryan Fischer went bonkers.
After all, The Bible that Teabaggers so enjoy clutching is pretty clear on the subject of homosexuality, right? Here's the passage from the Book of Leviticus (aka the Book of Ancient Batshit Crazy) that the Botts and Fischers like to cite as proof of God's will:
Do not have sexual relations
with a man as one does with a
woman; it is abomination.
–Leviticus 18:22
Of course, a few passages later, The Bible also gives a big thumbs up to slavery:
Your male and female slaves are
to come from the nations around you;
from them you may buy slaves. You
may also buy some of the temporary
residents living among you and
members of their clans born in your
country, and they will become
your property.

–Leviticus 25:44-45
Hear that Canada? When our Teabaggers flee the country after the first lesbian president is elected, feel free to put them to work as forced labor!
March 12, 2013
Another nutjob goes out shooting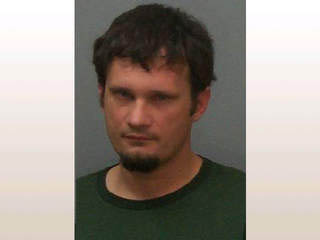 Sunday evening, police in Middlefield, Ohio, a small hamlet in the rural countryside east of Cleveland, pulled over a car for a routine traffic violation. Before the cops could get out of their cruiser, the driver, 42-year-old James Gilkerson, popped out of his vehicle firing an old Soviet semi-automatic combat rifle and sprayed the cruiser with bullets. One officer was hit in the hand and thigh. The other had shrapnel wounds caused by bullets ripping through the cruiser. Both officers returned fire, killing Gilkerson.
Why did Gilkerson make this Dillinger-like last stand? No one knows! According to the Cleveland Plain Dealer, an attorney who represented him in a 2006 drunken driving conviction remembers him as a person who was" anti-establishment."
"He was a hard person to figure out," said attorney David Patterson. "He just didn't like authority."

In other words, another anti-government nutjob who snapped. Great. As I predicted before Obama was re-elected, these creeps will start crawling out from beneath every rock. It's only gotten worse now that "Obama wants to take away mah guns!" The militia types, thanks to Dick Cheney's domestic surveillance network, are all being closely watched, so it's likely we'll never have another Oklahoma City style attack. But there's no stopping the lone paranoid from going off, and we're seeing that on a near weekly basis.
As I've written before, Ohio is like most states in middle America. The big cities are where the moderates live, along with the few remaining liberals. The inner city is a war zone, of course, so I'm talking about the various stable neighborhoods in any city where the educated middle classes cluster in dense numbers. Once you hit the countryside, it's a terrifying combination of bible-clutchers and enraged, paranoid far-right crazies. As long as the urban population outnumbers the rural, the country (barely) stays politically rational. So thank your God for places like Cleveland, Chicago, Pittsburgh and St. Louis, because we're the only thing stopping America from sliding into an ultra-right nightmare. The back roads of America are a scary place indeed, and I grew up out there, even if I barely recognize it anymore! And getting scarier, as the late Mr. Gilkerson proves.
I'm amazed at how little coverage this incident received. It wasn't even front-page news here! And it hasn't been covered at all outside of Ohio. Let's repeat: routine traffic stop and a nutjob opens fire with a combat weapon! Have we become so used to shooters and gun loons that this sort of thing no longer even registers? Guess so.
As usual, the comments after the story on the PD's website provide a depressing look into that paranoid underbelly. Like most newspaper sites, this one is a troll nest for Righties, so they can counter the newspapers well-known "liberal bias" by slapping up dozens of anonymous comments after each and every news story or column.
• Several debate whether a Soviet combat weapon is an "assault rifle."
• One idiot weighs in with the already tired NRA talking point about hammers causing more deaths than rifles.
• One (whose comment was removed) mocked the shooter for choosing an "inadequate" firearm with only a 10-round clip. If you're going to start a firefight with two cops and their department issue Glocks, the commenter chides, you need more rounds before you have to change clips.
• Another idiot blames the cop's injuries, not on the shooter, but on sub-par body armor!
Welcome to America. Duck and cover.
Mar. 7, 2013
Radio this weekend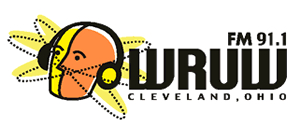 I'll be sitting in as a guest on the Erie Effusion show on Cleveland's WRUW 91.1FM, this Sunday evening 6-8 pm. Erie Effusion host Bridget plays weirdo 80s muzak and was intrigued by a recent Punk Rock & Trailer Parks Youtube playlist (see below). She offered to play the whole thing on her show, along with whatever other cuts I thought appropriate. After a solid year of talking about nothing but serial killers, it's a real treat for me!
You can listen live online HERE
PR&TP sold but a tiny fraction of what MFD has. At best it's a cult fave, but it's a book I'm personally very fond of. I'd like to see it read by more people.
Feb. 25, 2013
New Punk Rock & Trailer Parks soundtrack

Fan Amanda Conway put together a nifty Youtube soundtrack for Punk Rock & Trailer Parks. I always get a kick out of these. I myself have an iTunes playlist available, but, of course, that costs bread. I should probably post a Spotify one. In any case it's nice to have this one, complete with videos. Thanks, Amanda!
Feb. 24, 2013
Another weekly dies.
Just returned from speaking at a comix symposium in Columbus, Ohio. It was an enjoyable visit, as it always is when I return to the town where I attended college, and where my comix career began, on the pages of the Ohio State student newspaper, The Lantern. Columbus has a lively, close-knit comix scene, far more energetic than the one here in Cleveland, I'm sorry to say.
Before I left this morning, I popped into a funky coffeehouse, Kafe Kerouac, just north of campus, very near to one of my favorite haunts, the long-gone Monkey's Retreat– where I first discovered underground comix– to caf up for the drive back to Cleveland. Great place, doubling as a used bookstore. I leafed through the sci-fi section. Holy crap, there's a lot of Dune books!

I wandered over to one of the plump easy chairs in the main room. By the front door were a few copies of local newspapers and zines and I fished around for something to read as I sipped my espresso, since I didn't feel like pulling out my laptop. Used to be giant stacks of these various publications by every coffee shop doorway, but, of course, no longer as the print era wheezes its last.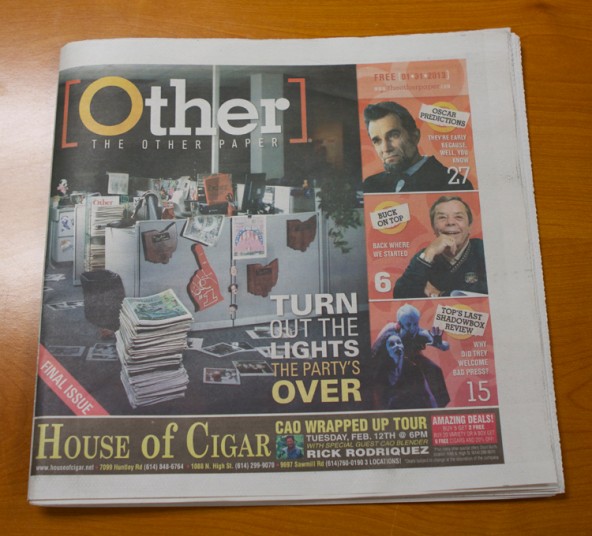 I was surprised to find the final edition of the Columbus alt-weekly, The Other Paper. Founded in 1990, The Other Paper wasn't a great rag. It was ok. Had some terrific writers, most of whom, as is the norm in the low-pay, long-hour weekly biz, left for better gigs after a year or three. The Other Paper clove closely to the typical weekly format: cranky news coverage, lotsa coverage of pretentious college rock bands and grungy clubs, arts, food, porn ads in the back. Its staff worked hard and believed in what they were doing. Didn't run many comix, even back when weeklies ran LOTS of comix, and I could never convince the editor to run mine, even though I was an Ohio guy and got my start at the Ohio State University student newspaper, right there in C-town.

The Other Paper, flaws and all, was indeed a true alternative to the dreadful monolithic daily, The Columbus Dispatch, owned by a meddlesome clan of rightwing libertarian One-percenters who have a finger in every pie in the state capital. As is usually the case, The Other Paper regularly exposed all these backroom machinations and the many journalistic flubs of the daily. Then, out of the blue, The Other Paper was purchased by The Dispatch. Bought to be muzzled, then closed, it turns out.

The Other Paper printed a last issue on Jan. 31 and vanished. Its website is now a blank link and its archive has been erased. After 23 years, it's as if it never existed at all. But does it really matter? Is anyone reading these things anymore? Since I found a small stack of the final issue in Kafe Kerouac this morning, still there, unread and unnoticed, a full month after it was published, I'd say the answer is "no."



Feb. 17, 2013
Episode #3
So I went out to dinner with the wife last night. We planned on going to our favorite turkish grille in Cleveland's Tremont district (a Brooklynesque part of town, perched on the lip of the industrial valley, full of artists, writers, the usual sort of hipsters that gravitate to such a neighborhood). The grille is on a corner. Across the street is an incredible chocolate shop and the magnificant St. Theodius Cathedral, the Russian Orthodox onion-domed church used in the opening scene of The Deerhunter. It's a breathtaking sight at night, all lit up and glowing. This is probably my favorite corner in all of Cleveland. On a nice night, we dine of kabobs, have a desert of handmade chocolate and beer, and then stroll around the neighborhood.

So we get to the restaurant and it's dark. Handwritten sign on the door: closed forever. What the hell!?! This joint was always packed! Despondent, we pop into the nearby Visible Voice Books, another frequent stop, and ask the owner what happened. Turns out the two guys that own the restaurant got into a fists-flying brawl in the kitchen, after months of bickering. End of restaurant. No kabobs tonight. Bummer.
But while we're in Visible Voice, one of the clerks introduces himself and immediately starts pleading with me to get another episode of Trashed: The Webcomic started. It always takes me by total surprise when I learn someone actually reads the crap I post here! But Brandon here is right. Time to get back to it. I've done some writing, and thought of another plot last night as I was pondering this conversation. Monday is my writing day, so I'll see where this goes, but I can confidently predict I'll be starting Episode #3 sometime this Spring.
More travel news
The first foreign edition of My Friend Dahmer is about to drop, Mon ami Dahmer. And I'm getting a week in Paris to promote it! Thought my travels were over as 2012 wound down, but it turns out that's not the case. Sweet!

You'll note I also added the entertainment con C2E2 to my 2013 appearance schedule (to the right). I'll be presenting my Making of My Friend Dahmer show. It's a giant mega-con, and that's that's not normally my thing at all, but any chance to visit Chicago is something I don't pass up.